Bathroom Lighting Ideas
When selecting lighting options for a bathroom, it's a good idea to keep in mind the dual nature of a bathroom's lighting needs. If you are relaxing in a warm, jetted tub, the lighting requirement is a bit different than if you are applying makeup or shaving. Having both low and high levels of light will allow for casual relaxing in the tub and for you to go through your beauty routine flawlessly. Explore the various bathroom lighting ideas so you can choose the perfect combination for your renovation.
To Dim or Not to Dim
Many new energy-efficient lights do not dim well; CFLs, LEDs and traditional fluorescents are great for energy conservation, but they often lack the ability to be adjusted to different levels of brightness. I have seen special CFLs that can be dimmed, but they tend to cost a bit more than regular CFLs. One way to avoid some of these concerns is with the use of dual controls and fixtures. A switch that lights a pair of wall sconces on the right and left of the mirror will provide adequate light for detailed needs. Another switch may be used for gentle overhead or accent lighting.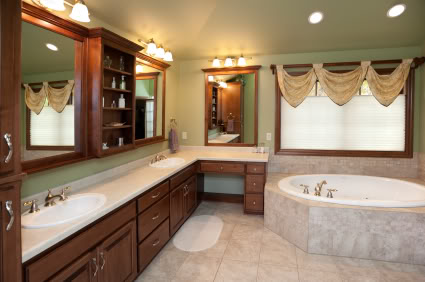 If dimmers aren't an option, install separate switches to control lighting over the mirrors and overhead lights.
Lights for Wet Areas
Because showers can be humid and steamy, it is essential to use fixtures that are rated for such areas. Such bathroom lighting ideas can vary from simple recessed cans to something more modern. These lights have special gaskets or seals to protect the bulb and connections from moisture.
Accent Lights
If you pay a visit to the bathroom in the middle of the night, turning on the bright overhead lights can be a bit harsh on your sleepy eyes. This is where some alternative bathroom lighting ideas can really shine. Subtle accent lights, a simple wall sconce on a dimmer or some unique toe-kick lights can allow to find your way while remaining gentle on your eyes.
Subtle accent lighting is great for middle-of-the-night trips to the bathroom.
High Tech is Cool Too
Advances in plumbing fixtures and LED technology have produced some cool bathroom lighting ideas that can add a lot of zing to your bath. There are even showerheads with lighting that indicates whether the water is hot or cold so you don't get surprised when you step under the stream.
More Bathroom Lighting Ideas
I saw some unique track lights recently that had small halogen bulbs, and they also had some little blue LEDs in the back of the housing. These provide a little flair and a nice directional light source. Another fun use of LEDs is in the use of portable floating waterproof tub lighting.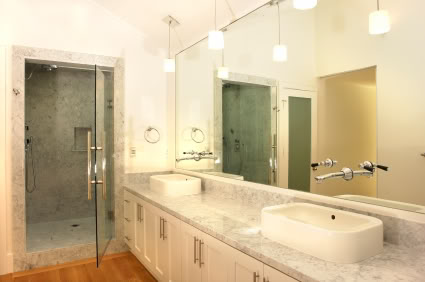 Pendant lighting is another option for your renovated bathroom.
With such a selection to chose from, lighting your bath is bound to bring you some exciting choices and opportunities. Simple wall sconces and traditional recessed can lights cover one avenue. Pendants and mini-chandeliers are other options for bathroom lighting ideas. Whether you update to high-tech temperature-sensing LEDs for your shower or simply set a small candle in the corner, lighting your private retreat to meet your personal tastes will bring you joy every time you flip the switch.
Talk to a remodeler about the lighting options for your bathroom. Fill out the form below.
Author Kevin Stevens moved to Colorado from Michigan in 1991. He has been a woodworker for over 30 years, and has also worked as a biotechnology engineer. Kevin now runs a remodeling business where he practices green technology and sustainability. He is currently building an off-grid cabin in New Mexico.
Looking for a Pro? Call us at (866) 441-6648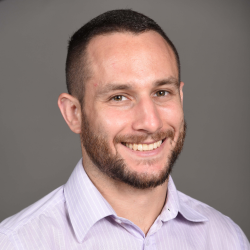 Top Cities Covered by our Remodeling Contractors