Retail vs. Custom High End Furnishings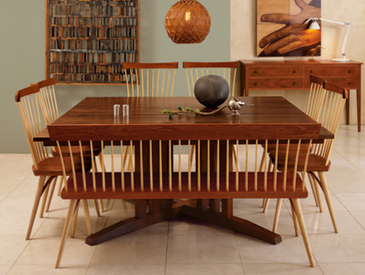 For the vast majority of consumers, furniture is purchased in a big box retail outlet on an "as needed" basis. Many of us also scour flea markets, antique and vintage shops, and our parent's attics to help stretch the budget. Beyond the standard retail stores such as Crate & Barrel, Restoration Hardware or Pottery Barn, there are establishments that serve a higher-end "luxury" clientele. For example, Roche Bobois specializes in modern French upholstered furniture and accessories, and Thos. Moser, a custom carpentry company with shops in Philadelphia and other cities, which offers fine wood furnishings handmade using traditional methods.
Mass-Produced Furnishings
Generally speaking, furnishings available to the retail market are to varying extents mass-produced so that the finished piece can be delivered in a reasonable amount of time. Depending on the store, the popularity of the item itself and the price point, some pieces are fully made and sitting in a warehouse ready to be shipped, while others are assembled to order from components that are mass-produced. In order to maintain cost efficiencies and timeliness of delivery, most stores have limited design options available. For example, Crate & Barrel usually offers a sofa or upholstered chair with a choice of 3 or 4 "Stock Color" fabrics that are available immediately. Their "Stock Plus" option features a broader choice of colors in the same fabric and at the same price point; however the piece takes longer to ship as the final upholstery is done to order.
Custom Upholstery
For an up-charge, customers can also select fabrics from other lines and in some cases, individuals can bring in their own fabric to be used on the piece, known as COM (Customer's Own Material). Clients pay a base rate for the un-upholstered piece and in addition, a labor charge for the upholstery work, plus the cost of the fabric. While this is usually the most expensive option, it offers a wide array of choice as to the final look of a piece.
Size
What is generally not an option for retail purchases is the size of the item. If you're very tall or short, the depth of a couch or chair can make or break the comfort you will experience. A few years ago, I was shopping with a client, and we both really liked the look of a Restoration Hardware roll arm sofa. At that time, they were only selling 48" deep sofas, about a foot deeper than the average. Both my client and her husband are short people, as am I, and we looked like children sitting in the super deep RH sofa, our legs stretched out in front of us. Needless to say, we had to seek other options. And this is the case with nearly all furniture purchased at retail – options are limited to what is available, any changes cost more money and significant alterations, such as size or finish, may not be available at all.
"Trade Only"
Beyond the standard retail options, some furnishings are available through the "trade only," meaning a design professional such as an interior designer or architect. These furnishings are sold at reduced prices to the designer, or design shop, which marks them up to the consumer in order to make a profit. These furnishings are often highly customizable, especially when it comes to fabrics, wood finishes, and details such as nail head or ribbon trims. In some cases, pieces can even be ordered with special sizing for depth of a chair or height of a table.
Fully Custom Furniture
If having total and complete choice over the design, size and materials is important, the best way to achieve this is to go the full custom route with a fine craftsman. In addition to recovering Grandma's armchair or dining chair slip seats, most very good upholsters can also build custom furniture to order. Of course, this is not a budget option. Crafting a quality piece of furniture that is solid and comfortable takes quite a bit of experience. I once worked for a custom upholstery firm, whose owner was regularly asked to reupholster a chair or sofa he had built for the client ten or even twenty years prior. Because the piece was made to order, to the exact requirements of the homeowners, they were happy with it for much longer than they would have been with a piece that wasn't custom built. Although the fabric eventually needed to be "refreshed," the underlying piece was still perfect.
Retail vs. Custom
A less expensive retail piece might not make it to the ten or twenty year mark, and the replacement costs might add up to or even exceed the price of the custom piece. In some cases, you simply might not be able to find what you're looking for in the marketplace, so having a piece custom built is your only option. A few years ago, when I did a living room remodeling and decor project, I envisioned a Parson's style side table that fit perfectly in the space between the sofa and side chair. I wanted it in an embossed leather, or faux leather, either white or blue/green. Of course, I couldn't find such a specific design or a suitable substitute anywhere. So I drew up a plan and got pricing from my upholsterer. The final cost to my client was less than $1,000, very reasonable in the custom world, especially as the result was completely one of a kind and perfect for the setting.
You Get What You Pay For
As with all purchases, you get what you pay for. Custom furniture made by a true craftsman is just that: custom. It's also transparent in that you will know exactly what goes into the piece, the quality of the materials, and the labor practices of the maker. Mass produced retail furniture, which is what fills the vast majority of our homes, comes with relatively few options, but does offer more budget friendly pricing. The choice, as they say, is yours.
Updated July 4, 2018.
Looking for a Pro? Call us at (866) 441-6648