Modern Dog Bowls for Stylish Pups
While dogs themselves cannot be trendy, their owners sure can be. These are dog bowls for the set who is purchasing hip shower heads for loft bathrooms, and who are hiring Brooklyn remodelers to refurbish their Bed-Stuy and Bushwick fixer-uppers. Are you cool enough for these dog bowls? (I know I'm not!) Drag a vintage sling chair out onto the roof deck, prop your feet up on the railing that doubles as a vertical garden, and click "zoom" on your MacBook, because dog bowls are going modern.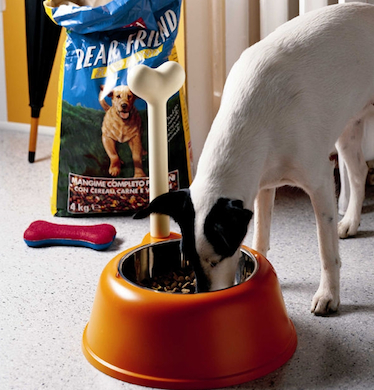 Alessi Lupita Dog Bowl: Designer Miriam Mirri designed Alessi's new and whimsical modern dog bowl. This dog bowl is sturdy, and combines the functionality of polypropylene and stainless steel with a fun pop-art look. The large plastic bone vertically attached to the bowl reminds visitors that although this is a fashionable and fun bowl, it is for Fido only.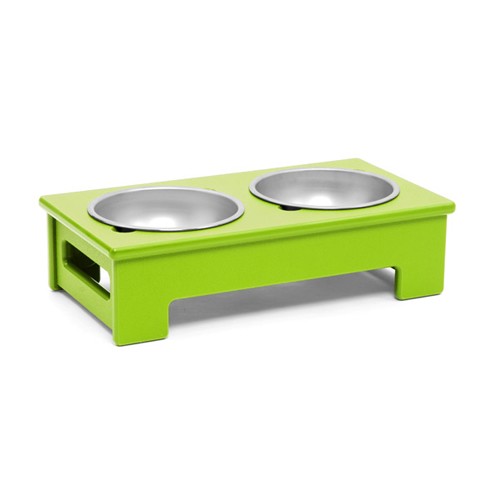 Loll Pet Bowls: A brightly colored raised base supports two stainless steel bowls. Since the base is made of recycled HDPE, there is no paint to chip, and the whole unit is dishwasher safe. The base comes in trendy colors all across the Pantone spectrum, from charcoal and leaf green to a cute neutral called "sand." The Loll dog bowl comes in several heights and sizes, to accommodate the full diversity of furry friends.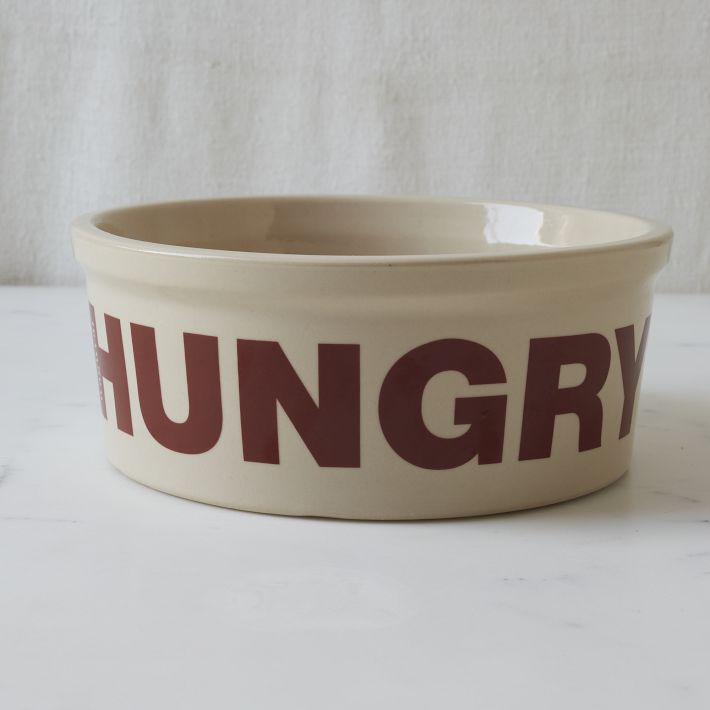 Wag Wear Dog Bowl Hungry: Spotted on West Elm, this simple dog bowl would fit in well in the mud room of a newly-minted suburbanite who has fled Brooklyn for the greener pastures of the Hudson Valley real estate market. It's functional and chunky, and nothing says "dinner bell" like the word "HUNGRY," which is painted in big letters across the side of the bowl.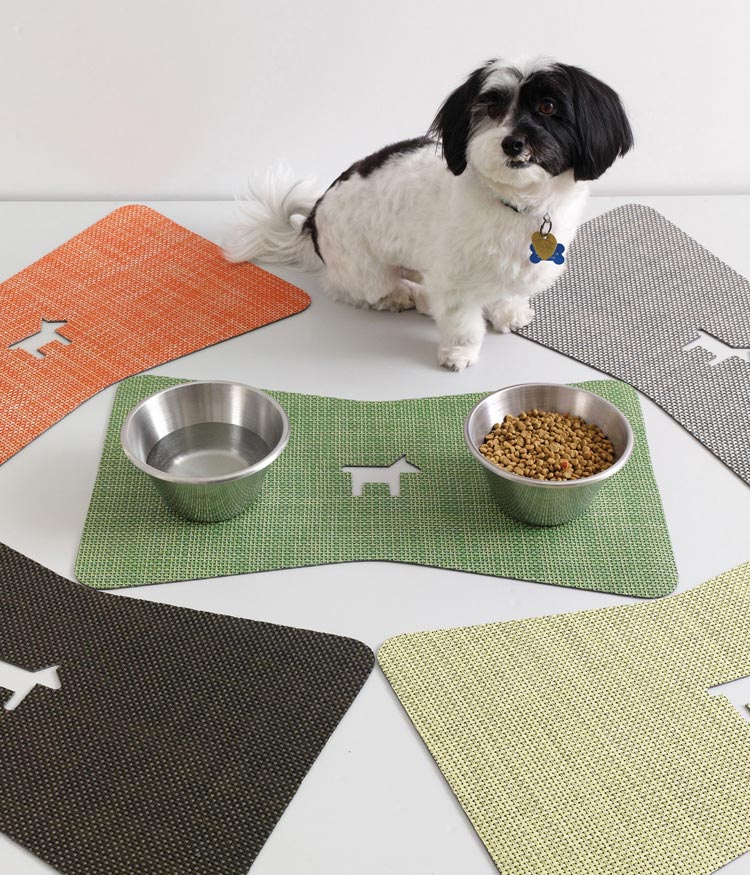 Chilewich Pet Mat for Dog: The fine designers of tabletop textiles at Chilewich have created a textile just for Rufus and Spot. The Chilewich Pet Mat for Dogs is the perfect way to prevent messes around pet bowls. It comes in a range of "new neutrals," including a beautiful burnt orange and a vivid sage. Since it is machine washable, bits of dog food or doggie foot prints that get ground into it can come right out in the wash. A pet mat should prevent floor damage, and minimize emergency calls to the flooring contractor. It's perfect to pair with a couple of Durapet Stainless Steel Dog Bowls (below).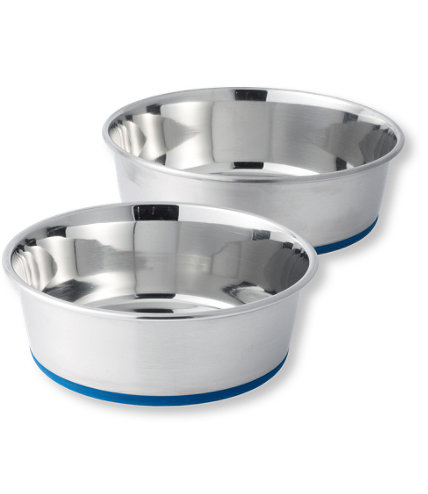 Durapet Stainless Steel Dog Bowl: LL Bean carries the Durapet Stainless Steel Dog Bowl, which is an uptown version of the usual stainless steel dog bowl. Its flared lip and non-slip rubber ring distinguish these stainless steel dog bowls from the rest. The rubber ring is fused onto the bowl so that a dog cannot chew it off. It's the perfect companion for the Chilewich Pet Mat for Dog.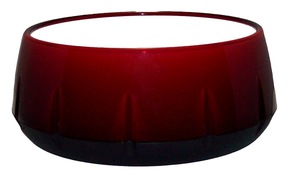 ModaPet Cinnamut Dog Bowl: "Bold, metallic, and mod" is how I'd describe the ModaPet Cinnamut Dog Bowl. Take your favorite metal water bottle, turn it a cool color, and style it just for your favorite pup — that's the ModaPet Cinnamut Dog Bowl. This bowl comes in several colors, including a super cute metallic orange. It's heavy, so your dog won't knock it over. It's a perfect pairing with a high style dog house.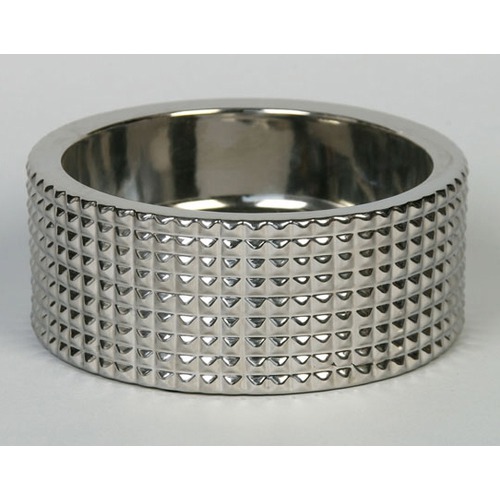 Unleashed Life Berlin Pet Dish: Have you ever met a friend whose style just blew you away? That friend might have the Unleashed Life Berlin Pet Dish, spotted on All Modern. This is the pet dish for a dog who lives in...a night club? A trendy downtown bistro? A swanky spa? I don't know where the dog who eats from the Unleashed Life Berlin Pet Dish lives, but his owner definitely has a taste for textured stainless steel, the perfect amount of chunk, and neo-punk glamor.
Chaya Kurtz writes for Networx.com.
Updated July 30, 2018.
Looking for a Pro? Call us at (866) 441-6648