Is Kitchen Sink Installation a DIY Job?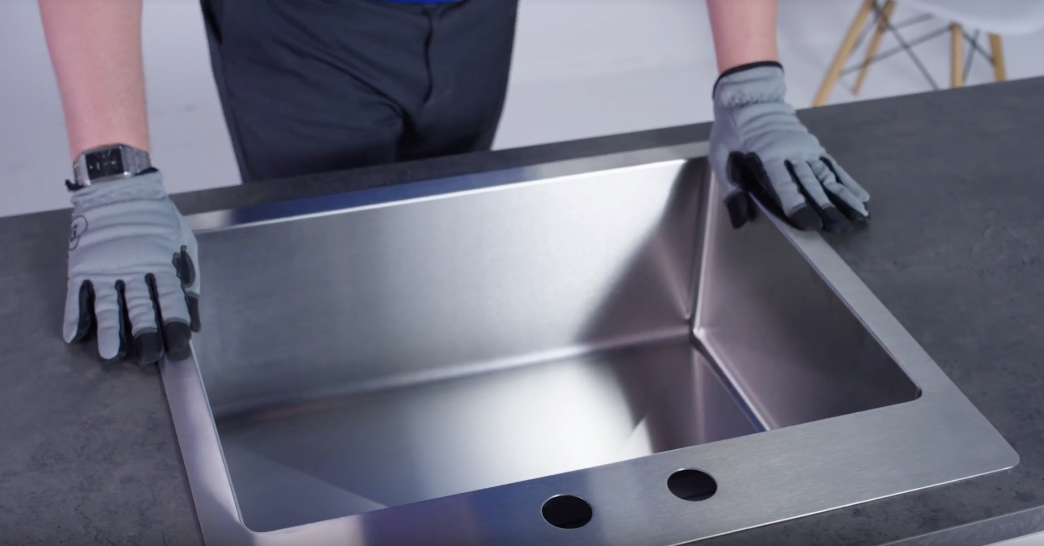 Kitchen sink installation can be a surprisingly doable DIY job … if you know what you're doing. Choosing the right type of project and careful preparation are your keys to success. Before you reach out to a plumber in your area, read on to find out if your sink installation can be completed without one. Find out more.
Not all types of kitchen sink installation are equal
Top mount or "drop-in" sinks, which are typically installed in laminate countertops, are generally the easiest type to work with. Undermount and apron front sinks, usually installed in granite or other solid surface materials, tend to be more difficult. Cutting and polishing of the sink cutout in a granite or quartz countertop is best left to professional countertop fabricators.
New kitchen sink installation vs replacement
New kitchen sink installation is likely to be easier than replacement. Replacing a sink sometimes brings unwelcome surprises, including:
Cutout problems. You might find that the cutout from the previous install is off center, the lines are not straight, or the cut is jagged or notched along the edge. That means the new sink may expose gaps.
Space restrictions. With a larger sink, you could encounter restrictions in the cabinet base that limit your ability to cut wider or provide less room to secure mounting hardware. Also, your ability to cut into the countertop may be impeded by the backsplash.
Installing a new sink into new countertops, OTOH, allows you to control the accuracy of the cut. It also eliminates the need to work upside down in a tight space, as you can install the sink before the countertop material is added. This assumes we're talking about a drop-in sink. Installing an undermount sink is a much more involved job, which should be handled by a professional.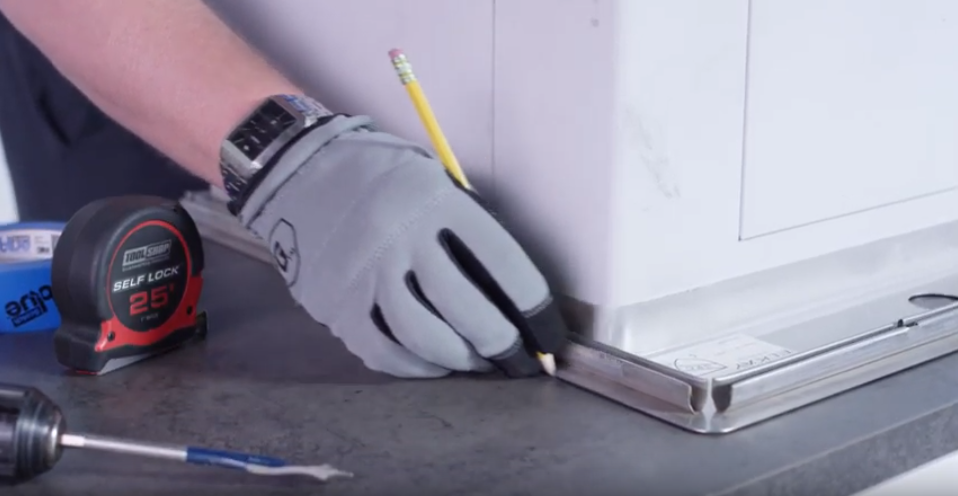 Tips for successful sink installation or replacement
Watch installation videos on Elkay.com or Elkay's YouTube channel to understand the scope of the project and how it relates to your kitchen's setup.


Investigate your current sink installation, if you're planning a replacement:
Peek underneath. If you spot any water damage, call a plumber for repair.
Examine where the hardware is located and where you might be tight on space.
When you plan to install a larger sink, check that you have enough room.
Avoid an emergency trip to the hardware store in the middle of your kitchen sink installation. Read the install instructions provided with the sink and ensure you have all necessary equipment on hand.


Turn off the water supply before starting to work.


Use the sink manufacturer's template as a placement guide for new kitchen sink installation.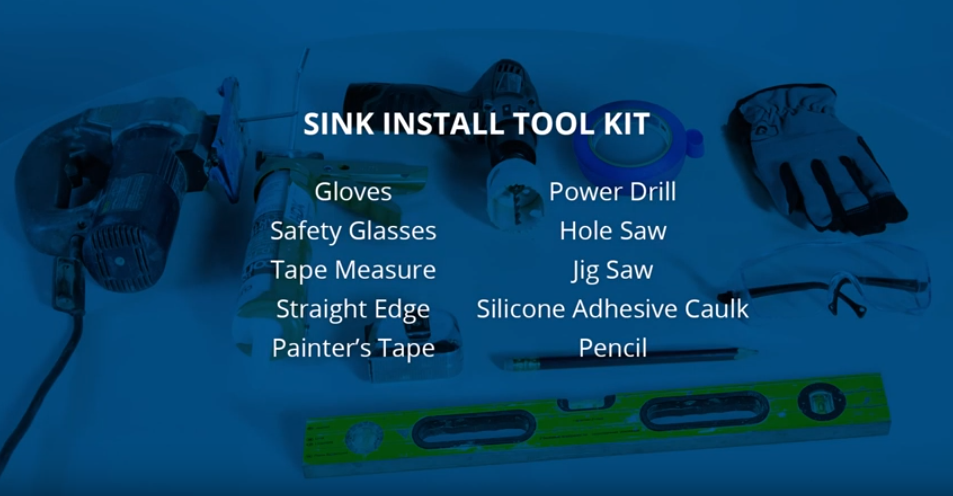 Equipment you'll need
Safety Gear:
Work gloves
Safety glasses
Tools:
Tape measure
3-foot straight edge
Painter's tape
Pencil
Power drill
Saber saw or jigsaw
Hole saw
Silicone adhesive caulk
Flashlight
Long, thin flathead screwdriver, like the LK350 extra-long sink screwdriver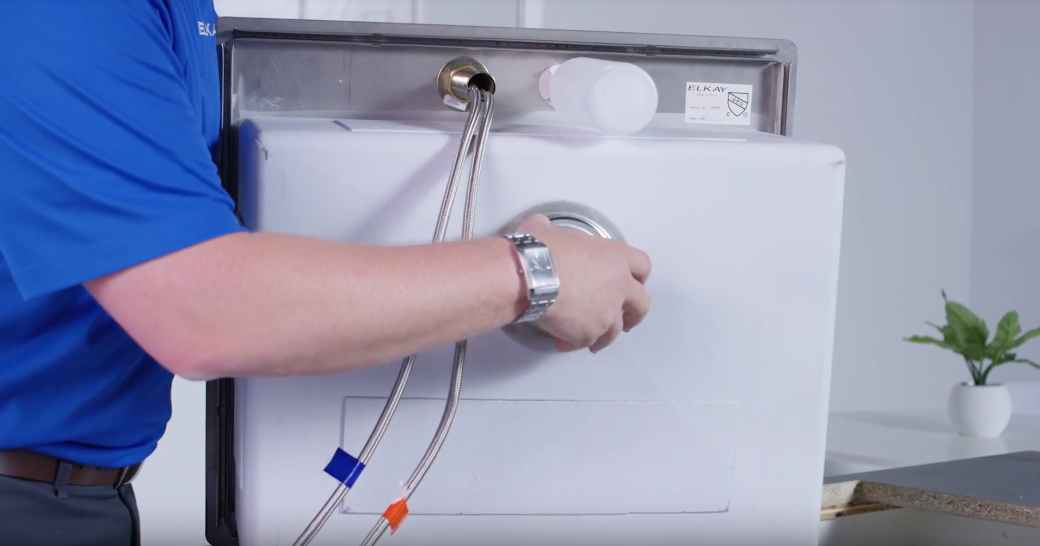 Reasons to replace your sink
Scratching. Stainless steel sinks may become severely scratched over years if subjected to excess wear and tear, and you may wish to replace them for purely aesthetic reasons.
Chipping or cracking. Quartz and fireclay sinks, as well as other alternate materials, may chip or crack if subjected to traumatic stress and may need to be replaced at the homeowner's discretion.
Outdated design. Replacing an older kitchen sink, especially an inexpensive generic brand, allows you to choose from improved features, such as thicker steel for sound deadening, a scratch-resistant finish, or a more modern design with tighter corners.
Ho-hum curb appeal. When you're selling your home, an attractive kitchen adds curb appeal galore. A new sink with improved features will refresh the look of your kitchen, similar to the effect of a new coat of paint.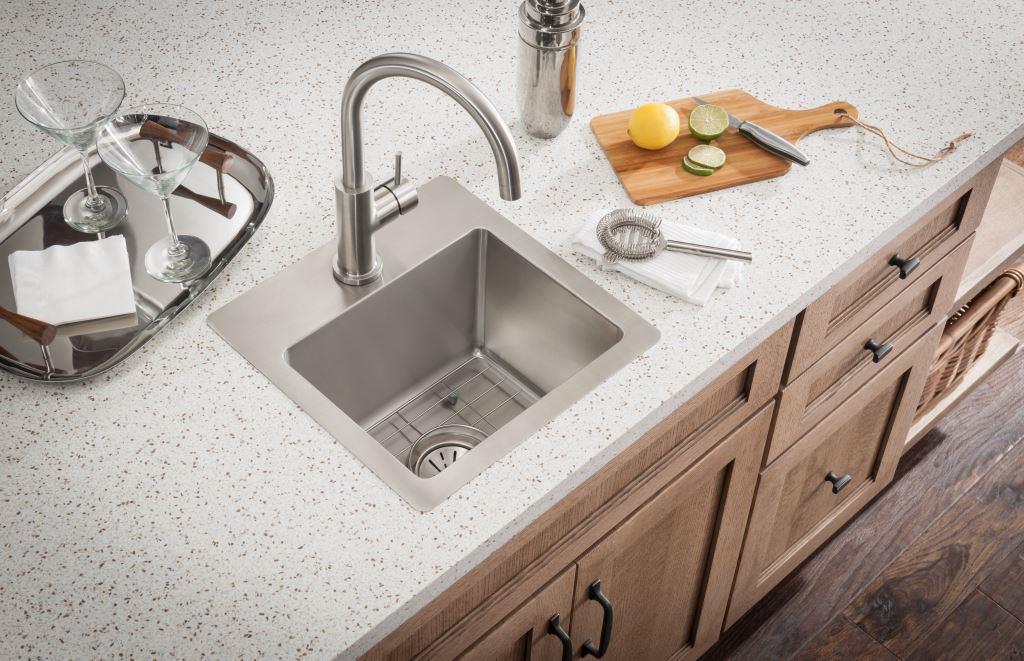 Thanks to Elkay spokespeople James Slattery, Senior Product Manager, and Kenneth Barta, Manager of Product Engineering.
Laura Firszt writes for networx.com.
Looking for a Pro? Call us at (866) 441-6648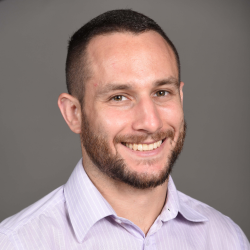 Top Cities Covered by our Plumbers