A kitchen island can offer some great added workspace to your kitchen, and it can also provide added storage. In its minimalist form, a kitchen island can be just a simple table. At the other end of the spectrum, kitchen island ideas can feature a cook surface, dining area, storage space, wine cooler, bookcase, dishwasher, and just about anything else – including the kitchen sink!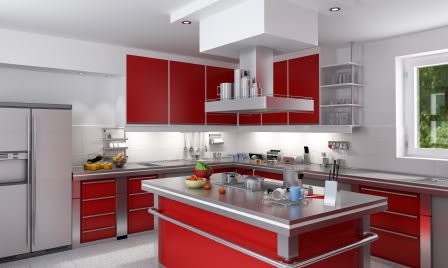 An island can include a sink, be extra storage or just offer another work surface.
Will It Fit?
When discussing kitchen island ideas, most designers will tell you that an island needs some "walking around space." The basic rule of thumb is 48" to 42" between the island and the other cabinets, although you may get by with just 36", provided that the narrow aisle is not used as primary traffic area.
Cabinet or Furniture Style
When designing a fixed island, you have two basic styles. Cabinet-style is built from cabinets, just like the non-island area of the kitchen. They may be dressed up with some corbels or additional base trim, but the basic look is to match the rest of the kitchen. In furniture style, the island is built to look more like a traditional piece of furniture that may be found somewhere else in the home. Here, the goal of your kitchen island idea is to make the island stand out. These pieces will often have legs or columns built into the design and will typically lack heavy-looking base molding.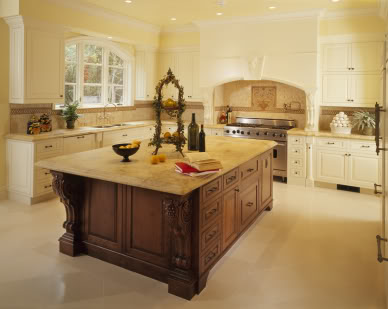 A furniture-style island is meant to stand out.
Sinks and Cooktops
Because islands are usually centrally located in a kitchen, they are often set up with a sink or cooktop, two of the three main work zones in a kitchen. I have seen many islands with a sink or cooktop, and to a lesser degree, islands with both. These amenities cut down on some of the distance that a cook may have to cover to get things done.
In-Kitchen Seating
Another of the popular kitchen island ideas is to use the island, aside from the food preparation and cooking, as a place to sit down and enjoy the food. Islands can offer a handy place for a quick breakfast or lunch snack, saving a little time and effort from a trip to the normal dining area. Sitting areas can be at the same height as the main island, or they can be raised or dropped.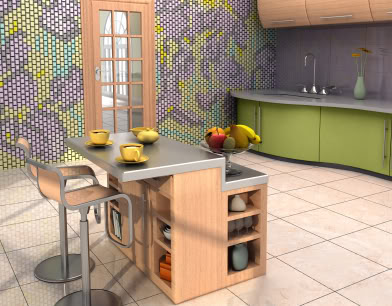 An island can be a great place for breakfast – and storage.
Mixed Materials
Having an area of the island set up with a butcher block top and a stone surface can provide for a robust cutting surface and an area for working pastry dough. In my kitchen, I have to switch out our oversized cutting board for the marble pastry stone when the summer heat turns the pie batter into a sticky goo. Having both ready all the time is a great kitchen island idea and a time saver.
Bookcases and Wine Racks
With furniture-styled islands, it is very common to incorporate shelving for special storage or for cookbooks. Many cooks find having their favorite reference materials in the same room a huge bonus. Storing a small collection of wine is also very handy, whether in a dedicated wine cooler or in a stylish rack.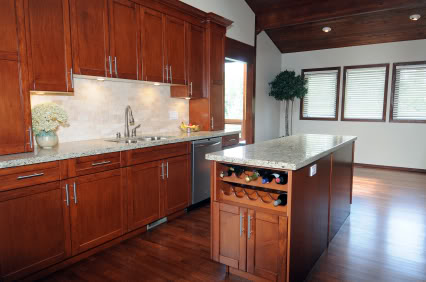 A kitchen island can include a wine rack for convenience.
Most of the examples I have given here are for fixed kitchen island ideas. If you have a cooktop or sink involved, your island has to be fixed. If your kitchen is smaller or you have the need for a smaller island, there are countless choices available in a cart style. With a set of wheels, these islands can be moved or positioned for optimal use. Despite their diminutive size, they can still serve a big role in the modern kitchen.
Figure out how an island would fit into your kitchen floor plan. Do you need other ideas?
Talk to a remodeler. Fill out the form below.
Author Kevin Stevens moved to Colorado from Michigan in 1991. He has been a woodworker for over 30 years, and has also worked as a biotechnology engineer. Kevin now runs a remodeling business where he practices green technology and sustainability. He is currently building an off-grid cabin in New Mexico.