Main Services: Concrete, Stamped Concrete, Flat Work, Bluestone, Pavers
Description: We are a full service Concrete and Hardscaping company. We offer complete outdoor living areas, stamped concrete patios walkways and pool decks we offer many options of material from pavers, broom finished concrete to blue stone, cultured stone and Belgium block curbing. We customize all work to fit the need of the project.
Service Area: Blooming Grove, Greenwood Lake, Sloatsburg, Stony Point, Montgomery, Bellvale, Ramsey, Mountainville, West Milford, Augusta, Monroe, Tomkins Cove, Hillburn, Johnson, Montague Township, Matamoras, Franklin Lakes, Vernon Township, Fort Montgomery, New Hampton, Glenwood, Oak Ridge, Allendale, Rock Tavern, Franklin, Mahwah, Arden, Westtown, Circleville, Pompton Plains
See More
2 Reviews
Review Me
Work Description: RIPPED US OFF!!
Comments: We hired Xtreme Concrete LLC in September of 2020. WE signed a contract and paid a $500.00 deposit. They dodge our calls, text messages and emails. Michael Mari is a CROOK!!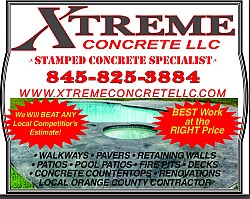 You told us to hold off on your job because you installed a wall that had collapsed.We gave you a start date and was told to hold off. I purchased the special pattern you requested. Your deposit is non refundable that's why we take one. We've asked several times for a phone call. KEEP SLANDERING MY BUSINESS we will now start the Legal process for the total amount of contract.
Work Description: Creation of a new concrete patio and demolition of old concrete steps
Comments: Mike from Xtreme Concrete was both knowledgeable and professional. He gave me a great price and finished the job in a timely fashion. I will definitely hire him again!