Main Services: Electrical Repair
Description: Whether you are in need of repair or are wanting to upgrade your electrical system, we are here to help. We have experience with everything from replacing light futures to completely rewiring offices and homes. We are license, insured, and thoroughly trained. Give us a call today. You'll be "shocked" at how great our service is.
Service Area: Rockwall, Rowlett, Wylie, Lavon, Fate, Sachse, Dallas, Plano, Sunnyvale, Richardson, Mesquite, Garland
What sets us apart from other contractors: W3's goal is to always creat "Win Win" scenarios. A Win for our customers- you receive the best quality of work possible. A Win for our employees- we always strive to be the best place to work with the best employees possible. A Win for our community- it is important to always give back to your local communities. We do several charity donations and events each year.
We are best known for: Our workmanship quality and attention to detail.
See More
7 Reviews
Review Me
Work Description: Switches/Outlets/Fixtures - Install
Comments: Quick response to set appointment. Arrived on time. Pleasant personality. Detailed estimate provided. Ready to work immediately. Job completed as described on estimate. Professional results. Highly recommend this service provider.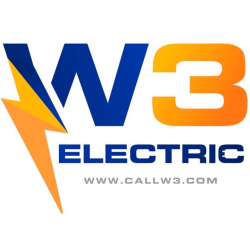 Thank you for taking the time to provide us with your feedback. We are thrilled to hear that you had a positive experience with W3 Electric. Our team strives to provide exceptional customer service and we are glad to hear that we met your expectations. If you have any further questions or concerns, please do not hesitate to reach out to us. We value your business and appreciate your support.
Work Description: Switches/Outlets/Fixtures - Repair
Comments: Customer service was friendly. They forwarded the technician name and picture before the gentleman arrives. He is well organized. He and his partner slip on shoe covers before interring my house. They exam and evaluate the issues ,and explained want needs to be done and their recommendation worked. I had a good experience with them.
Work Description: Lighting
Comments: Perfect customer service, attention to detail, and took the time to explain everything.
Work Description: Ceiling fan, new breaker
Comments: I've suggested W3 to three family members after they assisted me. Every single family member has been more than satisfied! They feel like caring neighbors helping you out instead of either stuffy "professionals" or sloppy cheaper options. Love these guys!
Work Description: Replaced panel, upgraded to gci plugs, added chandelier, added exterior lights
Comments: I've worked with W3 multiple times. They are always reliable, professional, and informative. They always explain things in a way I can understand. I trust their recommendations because they never go for the hard-sell or over recomend unnecessary stuff. They clearly know what they're doing. They show up on time, respond to my messages promptly, and stand behind their work. Fact is, I like everyone I've met at W3 and trust their work.
Work Description: Electric
Comments: W3 takes the best care of their customers! They were professional and hardworking employees and they are honest with their solutions. I felt in such good care. Hire W3 today!
Work Description: Installation of new plug, and Fan replacement
Comments: Showed up within an hour of calling. They were done in under an hour. Literally so quiet I forgot they were there, and were super excited professional. Tech wasn't pushy on selling new stuff and was very knowledgeable. Would definitely recommend