Description: Nothins' Sweeter than a Roof by Skeeter!

Uncle Skeeter's Roofs & Gutters is a family and locally-owned business that has over 30,000 loyal customers and many partnerships throughout the greater Maryland, Virginia, and District of Columbia areas. --GAF Certified Master-Elite(TM) Roofing Contractor providing professional, industry-endorsed Roofing, Siding, and Gutter Cleanings for over 15 years. --50-year Material and 25-year Workmanship, 130 MPH Wind Protection on the Golden Pledge Warranty for roofs. --The unparalleled James Hardie fiber-cement siding backed by the coveted Good Housekeeping Seal from the Good Housekeeping Research Institute. --VELUX Certified Skylight Installers. --We offer a variety of materials and financing for every budget. --Call us today for a free estimate and take advantage of our 12-Month Same-as-Cash financing with very affordable payments.
See More
10 Reviews
Review Me
Work Description: Gutter Cleaning
Work Description: Gutter Cleaning
Work Description: Gutter Cleaning
Work Description: Gutter Cleaning
Comments: We very pleased with our gutter cleaning. The scheduling tailored to our needs - not like the other bigger gutter cleaners that couldn't give me an extra day/time and would not work with me (I wanted to be here the first time I used their service). The crew was on time and efficient. They emailed me pictures from up above and took the time explain what they saw. Next time I will be completely comfortable with them coming on their own because I have trust in them.
Lawrence Capitol Heights MD
Work Description: Handyman
Work Description: Repair leaking skylights.
Comments: No more leaks.
charles Riverdale Park MD
Work Description: Roof Repair - Asphalt Shingle
Comments: you did well!
Work Description: Gutter Cleaning
Comments: Showed up on time; did an excellent job!
Katthleen District Heights MD
Work Description: PVC Gutters , soffits, fascia boards, and rake
Comments: Although weather delayed the completion of the job, in the end, the work was very good. The staff is very responsive and the company assures that the customer is completely satisfied before sign off.
Work Description: Had gutters cleaned out. Great job & great price. Uncle Skeeters is awesome! Hired them again for a siding job.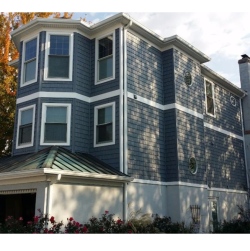 Thanks Scott! We appreciate your business!!