Services: Asphalt, Concrete, Concrete Foundation, Home Addition, Vinyl Flooring Installation
Description: General remodeling
Paint,wood flooring,tile flooring drywall, carpenter
Service Area: Damon, Plantersville, Barker, Tomball, Glen Flora, Hufsmith, Sublime, Garwood, Oakland, Fulshear, Louise, El Campo, Katy, Sweeny, Angleton, Sealy, Hallettsville, Industry, Fresno, Weimar, Egypt, Altair, Burton, Nada, Old Ocean, Rosenberg, Prairie View, East Bernard, Richmond, Dobbin
See More
25 Reviews
Review Me
Work Description: Rental Equipment Non Payment.
Comments: Mr Sarurnio Paredes Rented our Skid Steer for a total of 3 days and only paid for two. I would not trust this man or his company. He left the unit dirty and low on fuel and has blocked us when reaching out to get final payment for his rental.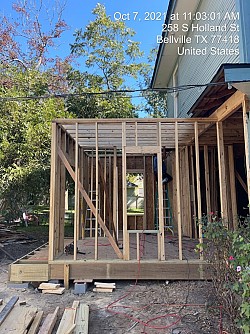 Look at this, my friend doesn't count, I didn't work for part of my company, the company that paid all the rent is Global Service, they stopped listening to everyone and it's just that I moved because I didn't investigate before putting this in my co
Work Description: Covered porchs
Comments: Good work at fair pricing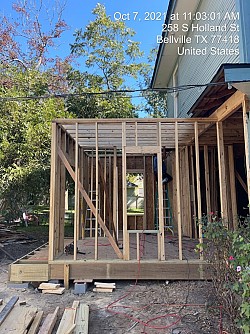 Thank you Mr Blanton
Work Description: Concrete Driveways/Floors - Install
Comments: These guys were excellent!! Great communication on everything. Professional in every way. I'll use them again that is for sure.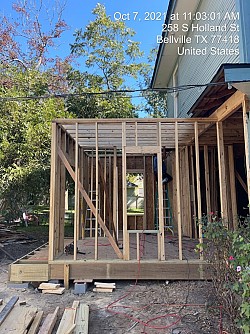 Thank you miss Pitty I like do more work for you I happy you like this job thank you
Work Description: Cement Slab
Comments: These guys were excellent!! Very professional in every way. Great communication about everything!! Was very pleased with the work and will use them again for other work needed.
Work Description: Concrete Driveways/Floors - Install
Comments: Excellent work! Great team.
Thank you!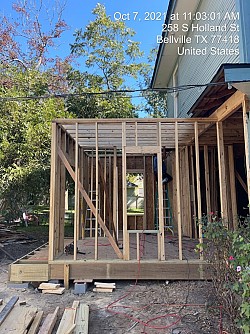 thank you so much miss tiphany
Work Description: House work
Comments: Saturnino did an addition on our house. Please trust this review when I say STAY AWAY from him. We just had a hard rain and our roof over the addition is leaking all over the place, water is running down the walls, and sheetrock is cracking. This is an absolute mess. If you are taking the time to read reviews - do yourself a favor and stay away. You can tell the 4 and 5 star reviews are him because it's broken English that makes no sense. As others have said he's a nice guy, but hes going to tell you what you want to hear until it comes time to deliver. We've given him opportunity after opportunity to fix this problem and he just has excuse after excuse. "I come tomorrow" then tomorrow comes "sorry my guys busy" then he eventually says "look just hire someone else". Real easy to say once you've been paid for the work.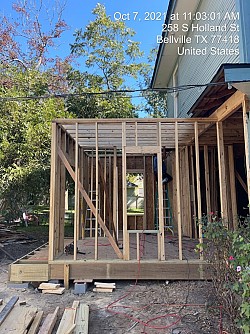 With all due respect, ma'am, I'm just telling you that you're just trying not to pay to fix your things since your husband is not good at paying what the jobs really cost. problem and apart from that I no longer fear any real possibility of this work so lorfabor I only ask that if they do not stop bothering me and harassing me I will put letters in the matter and it will be legal
Work Description: Concrete and framing
Comments: I really recommend this company. It's a complete crew with machinery and tools that is needed for the Jobs. Very clean work, no problem and really good customer service.
Work Description: Decks/Porches/Ramps - Build
Comments: Good guys. Highly reccommend. Pricing was fair.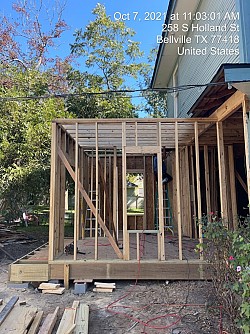 thank you sr
Work Description: Frame/cornice new house construction
Comments: If you're reading reviews looking to see if this is a person to do work for you, look at all the negative reviews. Chuy is a really nice guy. But that is unfortunately where it stops. he is not highly skilled in his trade & the people that he employs, even though they are very nice and personable do not have the skill set necessary to do a house frame or any other construction work. I made a mistake in trusting him. They got paid for about 90% of the job did not finish it and left it in a horrible mess. He made a lot of promises & I'm now having to pay two times more for another framer to fix and repair everything that was left bad. Do yourself a favor and don't hire this guy.
Work Description: Interior paint and stain
Comments: The job was excellent, not only that but the workers were hardworking and kept the site clean I truly enjoy the work and the charisma of the workers, I truly recommend this company.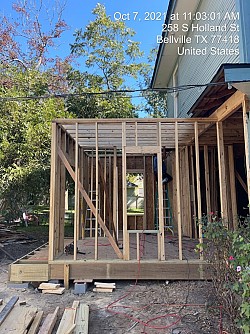 thank you
Work Description: Home Renovation
Comments: Saturnino Paredes Martinez (often referred to as chuy or Jesus by his subs) is the owner of Twins Construction and is not a trustworthy individual. Over the course of our project, he constantly lied to me about what he was spending money on and it wasn't until I started asking his subs questions that I found out he does this to a lot of people. Several of the other reviews on here are fake - such as Olivia leaving a 5 star review (that's his wife). My contract with Saturnino was for $45,000. I agreed to adjust it to $54,000 to cover some add on items and he agreed to that. I have now paid Saturnino (Twins Construction) over $56,000 and there is still close to $10,000 in work to be done. He has now told me that he is not going to finish the job and he is done. One of the items I paid him for was $2,560 for a tub and faucets and he never even obtained them. Yet the money is gone. So where did it go? That's the question. I am now having to file a lawsuit against him to get a judgement to get my money back and get the work done. I strongly suggest that you do not allow this man to do any work for you. He is not organized and is a compulsive liar. He lies so much that he can't even keep his lies straight, they change from day to day. If you catch him lying then he will just stop answering your phone calls. In addition to this, he took of pieces of trim and crown molding to see where the beam in our living room was (this area was not under construction) and then threw them away! He still has not even replaced these! Our floor has holes in it, the walls have holes in them, a mini split that he installed is leaking and causing mold to grow, the cedar beams that were supposed to go on our porch are not wrapped. I even agreed to buy all the material for him to finish the job he just has to cover the labor and he originally agreed to this but now he's saying he's just not going to do it. This is after I bought the material. I strongly suggest you DO NOT hire this man to do anything. He is completely untrustworthy and is not going to fix things after he breaks them.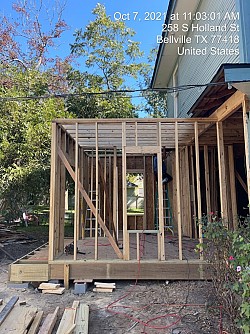 gracias por tis comentarios pero me gustaria que escribieras todo con verdad y la cantidad de todo y los extras que estan ahi incluidos en los 45k todo el siding que se puso den toda tu casa y la nueva los planos, los extras las ventanas, el ac, water heater tankless la instalacien electrica el material delas escaleras que aalio mas caro del que estava tratado el porche extra que se hiso istedes ouensan que con 45k seva hacer una mancion pero nose preocupe esta bien como siempre quieren ustedes ser siepre los que ganen no trevor todos somos iguales y nadie se deja de nadie y acuerdate que te quedaste con mi herramienta y gracias adios trabajo no me falta que disfrutes tu casa
Work Description: Concrete slap
Comments: I recommend this company hi do wood job and good price in concrete and wood work I recommend 100%
Work Description: Concrete - Sawing or Removal
Comments: I was very pleased with the work that was done they cleaned up their work area and kept me informed on progress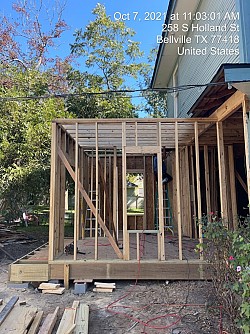 thank you mr John
Work Description: Concrete Patio
Comments: Took my deposit and ran. Avoid this company at all cost. Will be seeking litigation to get this business shutdown.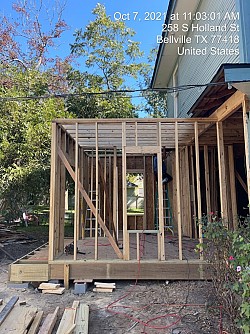 thank you mr Adam but you sure I take you money and ran I have pictures and all invoice for all job my guys do in you property I send 5 guys in take all grass in leveling and put all rebar ready for concrete and you send other guy to check and hi is not inspector hi only looking for do the job but you litigation for to get my business shutdown go sr but no body working for free sr when oh and remember I do you plumbing for free to and thank you sr for this
Work Description: Move In/Out
Comments: Showed up on time & did a great job for a good price.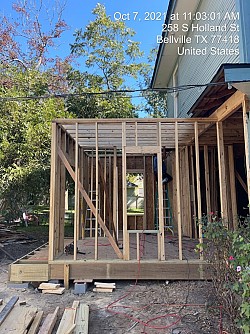 thank you me Thomas
Work Description: Concrete Driveways/Floors - Install
Comments: He did a good job with the concrete slab. There were minor issues but he worked it out.

UPDATE
I previously gave them 5 star review because they promised to come back to repair a flaw (a puddle dip) on the backyard slab. Worst of all, they got the color WRONG! They blamed the rain, my roof debris, and everything else, except their workmanship. It's been more than 2 weeks, and if I don't text him, he'll not respond.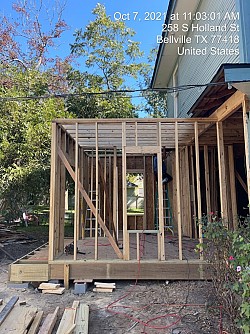 ok Mr.Daniel you saw that we did our best on the slab and the stamp that you and your wife where ok with and you didn't grab the color you wanted because you didn't let me apply the cealer which is the true color that you wanted and another point which is not an excuse I told you that i would comeback and fix the problem for the clogged water but you personally told me it was fine Also we have been getting rain which you said it was "an excuse " which ain't true I have been doing this for 9 years on concrete and I've never had problems or reports for clogged water for which you have said
Work Description: Plumbing
Comments: Do not use this company. I am having to completely redo all repairs this company made They refuse to stand behind their work.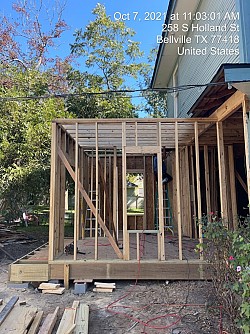 mr John sorry but I come back 4 times for fixed you plumbing and you not good material and I tell you 4 times and for you not pay more I wait for you like one month and you call me you think is ok sr I have other jobs and tell you I send my guy when hi available but is ok for you report and when you need personal plumbing pay for that and hi available for you any time sr
Work Description: Fireplace stone removal and reconstruct
Comments: Excellent work
Work Description: Floor Tiles Installation
Comments: Very good hardworking crew and excellent job result.
Work Description: Tile Floor Install
Comments: Prompt, courteous, finished project, removed all construction waste. I would definitely recommend and use Twins Construction again.
Work Description: Framing
Comments: The project wont start for another week but he was prompt, very polite and spent time understanding what we were looking for.
Work Description: Siding Install/Replace
Comments: Had appointment with the fellow. Didn't show up, texted him 30 minutes later.. Said he was stuck in traffic. Texted him again 1 hour later.. Said he was still stuck in traffic in Sealy TX on a Saturday... OK... Wanted to change the appointment this time to Monday.. No respect for my time... I cancelled two appointments to meet with this guy on a saturday.
Work Description: Interior Painting 3+ rooms
Comments: Great painter s , good job . Fair price. Would hire again
Work Description: Tile
Comments: On time, on budget, excellent job would recommend to anyone. My daughters even going to use them again in the next few weeks.
Work Description: Tile Floor Install
Comments: We are extremely pleased!! We found someone we highly recommend.