Main Services: Roofing And Gutters
Description: When you need quality roofing over your head that's sure to keep your home protected from the elements and sun, and keep your energy bills in check, look to the professionals at Top Tier Home Services. As Burlington's leading roofing company, we have over 85 years of experience with roofing installations, roofing repairs, siding, gutters, and more. We can ensure the work is done correctly and reliably for a very reasonable price. Contact us today!336-350-9825
What sets us apart from other contractors: At Top Tier Home Services, we work hard to earn our customers' trust and their business by providing unmatched roofing repairs, gutter installations, and siding solutions for a competitive price.
We are best known for: Professional contractors with over 85 years of experience
See More
5 Reviews
Review Me
Work Description: Roof replacement
Comments: I was very satisfied with my roof project and outcome. I spoke to a kind woman named jasmine who talked me through the entire process. My husband and I felt confident with top tier getting the job done. It was very fast and easy to get in contact if we had any comments or concerns. I will definitely be recommending Top Tier.
Work Description: Gutter Install
Comments: The team did a fantastic job . The crew was very careful with my Garden . I highly recommend.
Work Description: Roof Replacement
Comments: We had Jasmin from Top Tier Home Services come out and inspect our roof after we had solar panels removed. She was thorough and very honest about what she saw. She even made sure to show us the damage. We ended up needing a new roof and Jasmin walked us through the entire process and was extremely responsive anytime we had questions or concerns. Our roof was to be installed on a Monday but we received a call the Thurs before and we were notified that it would be raining on our install date. Instead of pushing out they gave us the option of installing that sat, we were happy they gave us options and communicated with us every step of the way.
The new roof went on very fast and seamlessly. The team even repaired one of our gutters we were having problems with.
HIGHLY RECOMMEND!!!
Work Description: Roof Replace - Asphalt Shingle
Comments: work was extremely good but administrative work was terrible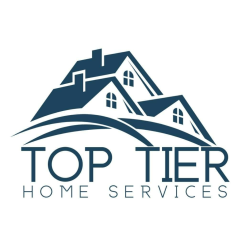 Mr. Murrell, thank you for taking the time to write this review, we truly appreciate it. I do sincerely apologize for any issues in the course of your project and we will take this feedback and make adjustments. Thank you again and please let us know if you need anything else. Jason Brown- Director of Operations.
Work Description: Roof installation
Comments: Jasmin contacted me right away and came out to give me an estimate. She was very informative and really listened to what I needed. We couldn't decide between metal or shingle roof but we are happy with our choice now, will be contacting her again soon for our gutter replacement. Great work and fair prices!