Main Services: kitchens bathrooms flooring painting and so much more
Description: Remodeling in all phases, not limited to
Service Area: Luthersville, Jonesboro, Yatesville, Mcdonough, Jenkinsburg, Smarr, Sunny Side, Culloden, The Rock, Gay, Tyrone, Fayetteville, Sharpsburg, Molena, Musella, Warm Springs, Juliette, Williamson, Lovejoy, Thomaston, Greenville, Turin, Moreland, Forsyth, Peachtree City, Milner, Hampton, Barnesville, Woodbury, Griffin
What sets us apart from other contractors: Our pricing and our Integrity
We are best known for: Bathroom, Kitchen Renovations and Finish Carpentry
See More
22 Reviews
Review Me
Work Description: Tile Floor Install - Labor
Comments: CROOK. DONT HIRE. DONT USE NETWORX EITHER.
Work Description: Cabinets/Drawers Installation
Comments: This company is a rip off everything he say he will do is just talk, He lies about material that he use, He lies about people doing the work, THATS not professional at all,He hires homeless people, some with little experience that can't cut a straight line or that can not complete a sentence. This is my first hand experience, l would have fired him after the first week but I gave him to much money to start.There is not one thing to consider this guy as being a PRO. So as far as building a deck stay far away from this guy ,if I could I would give him a negative 0 rating. HE TALK LIKE A PRO AND THATS ALL, THE PEOPLES HE HIRE DONT HAVE A CLUE.
Work Description: Replace Deck
Comments: Actual work was sub standard. From the beginning work was inaccurate due to misalignment of cuts to wood such as 4x6 posts. Boxing in of foundation was done incorrectly which led to posts being out of line. Materials were not of the quality requested as some of the 5/4 boards had knot holes in them and had to be replaced. The builder stated that he inspected every piece of lumber but he did not do so as many boards had to be replaced. The workers did not conduct themselves in a professional manner at all and really did not do quality work as many of the cuts they made were inaccurate and boards did not line up correctly and those had to be replaced.
On March 14, 2023 had a confrontation with one of the workers due to his poor workmanship and errors doing the job and his overall negative attitude. The worker threatened me and would not leave my property upon request. We almost had a physical altercation and the police were called due to the situation at hand. This incident could have developed into something far more serious than what actually occurred. This was no way for a business to conduct themselves.
After this experience I will not use this company ever again, nor will I recommend this company to any one as they do not conduct themselves in a business or professional manner and the quality of work is not good at all, too many errors made in doing the actual job. Too many missed cuts made and it seemed that they really did not know what they were doing. If I could give this company a rating of less that one star, I would.
Work Description: Concrete Driveways/Floors - Install
Comments: Great work good price very satisfied
Work Description: Tile Floor Install
Comments: The project took a longer than expected but the final results were as I had hope it to be.
Work Description: Cabinets/Drawers Installation
Comments: I would definitely recommend Remodeling Pros to anyone . William was professional, wrote in a quote what he would do, and did exactly that and more. My kitchen cabinet installation was supposed to be simple , an hour or so but ended up taking over half a day. My crown molding didn't match the new cabinet . His people took all of it down, waited for my husband to come back with new molding and installed it with no extra charge! After the job was finished, my fridge was wiggled acknowledged in place and ripped my linoleum
. William had pictures taken, told us no worries. He would pay for a fix or new linoleum, whatever made us happy. As it turned out, the builder warranty company had exact match and William took care of payment. Asked if we were happy and that was that! I was concerned that he would stiff us, but no way. He is a real deal person. Should I need another job done, I would definitely call William at Remodeling Pros and highly recommend him.
Work Description: Drywall Installation
Comments: The biggest mistake I have ever made beware sheetrock job I have ever seen looks like children done the job. Cut the sheetrock with the butter knife used screws instead of she right nails. Charge me $21,900 up front and I want my money back I would not recommend them to anybody said he had a year guaranteed satisfaction work but will not stand behind it.

UPDATE 11/21/22
I Never wrote a bad check you liar I gave you 11,900 cash an I gave you one check for $10,000 that was good.

UPDATED 12/6
This Man lies when the Truth fits better He contracted the house done his own bid. The job was simple.all I ask for was for a 3 bedroom 2 bath an I Never wrote a bad check. His knowledge of Construction is next to 0 He wasn't there but speraticly 10 days all together. Didn't show up but that many days from June 1'st till I FIRED him an his Crack Head sheetrock helper.. He took $21'900 from the start he said he was going to order the interior doors and insulation sheetrock materials minus the 15 (3) Gallons mud that I bought. I have No Doors, No finished sheetrock that he claimed at the time on June 2st he wanted to order ahead of time so knowing could hold us up. Building materials were somewhat out of stock during the months of June, July. It was not even finished sheetrock an a finished ready to paint job that he is saying he has done with an wanted more money to carry on. I hired a areal Professional contractor to come to see his work while William was there to point out to William all his flaws an said $6000 would cover all the sheetrock being totally finished an ready to paint. But that's not what I got. Ripped off by an inexperience man claiming he knew what he was doing!!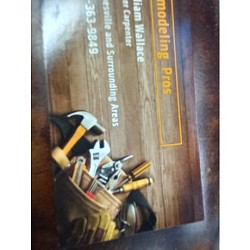 This customer is not being truthful at all. She started this contract off by writing me bad checks. Then she delay the power connection for over 30 days, delaying the start up. Then she started requiring additional work to be done before another draw could be released. But, this extra work was not in my contract. She never wanted to meet up and go over issue with the project. She never respected my time. We always caught her not telling the truth. She breached my contract.
Work Description: Regrouting shower wall and bathroom floor
Comments: After a few weeks William contacted us and explained that his phone service got messed up. He fixed our shower wall as soon as he could to our full satisfaction.
Work Description: Hardwood Floor - Install
Comments: Remodeling Pros are the best and I would not hire anybody else to work in my home..They really have pride in the work they do..
O
Work Description: Grout Repair/Replacement
Comments: we had a shower floor and bathroom floor redone. They came out beautiful.The shower wall was supposed to be regrouted yet instead new grout was put on top and to make it worse only 2/3 of it was done. We made the mistake of paying William Wallace before the job was completely done. We repeatedly tried to contact him about the unfinished work but he will not respond to any of it.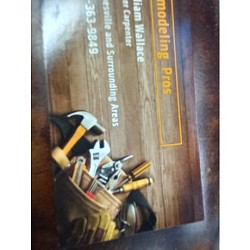 This is William Wallace with Remodeling Pros. Mr. Baker is right. These things did happen. My AT&T phone account was experiencing trouble. These problem would not allow me to retrieve my phone calls. My men was to complete the project but felled to let me know that work was not complete. We finally got intouch with the Customer and got the problem worked out. We not have a happy Customer.
Work Description: Wood Floor - Repair or Partially Replace
Work Description: Laminate Flooring - Install
Comments: My initial conversation with Mr. William was great. I will meet with him next
Work Description: Door Install
Comments: Mr.Williams speaks with a southern accent. In my experience that is a deffinate indication that his work will be outstanding. It was and I would highly recommend him to anyone interested in home repairs.
Work Description: Custom Carpentry/Woodworking
Comments: Great service and workmanship. I would recommend Remodeling Pros to any and everyone.
Work Description: Small bathroom remodel
Comments: Had I read these reviews closer, I would not have hired this man. I have waited over a month to even make this review of this man because of being so disappointed.. I have a lot to say, however, do NOT hire this man. Snake oil salesman would be a good description. He never met his timeline. He was late in starting, not answering my calls when wanting to know where he was. When he started he was unprepared. After 3 weeks of stutter starts, then working 2 to 3 hours a day. It became obvious that he didn't know what he was doing. He came into my home sick after having told me his daughter had Covid. He was feverish and commented he didn't feel well. I fired him. I hired a wonderful man who tore out what Remodeling Pros did because it wasn't done right and would have leaked in the shower. It took him 5 days to do what had turned into months with Remodeling Pros. And it was less financially. Learn by my lesson learned. Ugh.
Work Description: Framing
Comments: Remodeling Pros were very professional they came in quoted a price and stayed within budget the job was done right and I am very pleased with their work I would highly recommend their services I look forward to working with them on future projects

Michael Player
Hampton GA
Marlene Peachtree City GA
Work Description: New flooring in kitchen, bathroom, and laundry. Subflooring rebuilt in bathroom. Drywall and painting.
Comments: I recommend William Wallace. He communicates well and his estimates were reasonable and he is a knowledgeable handyman. His work is thorough and high quality. A real professional. We hope he is available next year for other work we need done.
Work Description: Drywall Installation
Comments: In processing of scheduling with Elite Drywall
Work Description: Bathroom/Shower Install
Comments: So far so good. William arrived when he said he would and gave us an estimate for 3 projects. He starts this week.
Work Description: Drywall Repair/Patching
Comments: William Wallice of Remodeling Pros did our drywall project. William was very professional, timely, and did an outstanding job for us. I would highly recommend William for any remodeling or home improvement project.
Work Description: Cabinets/Drawers Repair
Comments: Estimate and down payment are done. Actual repairs are scheduled for this week.
Work Description: Roof leak
Comments: Work was done very fast and seems to have stopped the leak