Main Services: 469-665-0526
Service Area: Prosper, Greenville, Dallas, Aubrey, Lavon, Ector, Little Elm, Leonard, McKinney, Gunter, Copeville, Trenton, Pilot Point, Nevada, Ivanhoe, Bailey, The Colony, Frisco, Tom Bean, Denton, Lake Dallas, Pottsboro, Tioga, Sadler, Merit, Wolfe City, Bonham, Weston, Melissa, Princeton
See More
4 Reviews
Review Me
Work Description: Door Repair
Comments: Prompt, courteous, got the job done at a lower price than other proposals. Don replaced two door sweeps.
Work Description: Custom Carpentry/Woodworking
Comments: I hired him for window seats . He said 1500 dollars to finish and he will spend 300 dollars material. He got 300 dollars in advance.Any additional we have to buy. Then we said ok he came next morning with some material and pulled all baseboard & windows boards. He did some work that we didn't ask.then he said he is going to fix tomorrow it will be done in 2 days on-site work window seats with paint.asked for 1000 dollars. My husband paid. Since that time he is not responding. That means he cheated us. He steals our money 1300 dollars for nothing.be aware before hire him he said he had 35 years experience.I would give him 00000 stars
Work Description: window seats
Comments: He introduced himself nicely his name DON. he said he had 35 years experiance.and said once i start project he wont start any other project until it finsh. we belived him. he gave us quote for 1500 dollas for 300 materials we paid in advance &1200; for his work.if he need more material we have to pay with proper reciept.we agreed. next day morning he came with materials didnt share receipt.we didnt ask because he is working on it. but he did some work is not we asked for it.we said we will pay couple of hundred more to fix properly.he said ok. asked for 1000.we thought he will finish soo we paid in advance.total 1300.dollars we paid him on september 9th for nothing .he is not responding properly now.since September 10th. who will be responsible for my 1300 dollars?if this problem not resolve i am going to complain on him.website also responsible for this problem.
Work Description: Decks/Porches/Ramps - Repair
Comments: My issue with this contractor was not the work he did. After he had my deposit he text me and told me he was single. I ignored comment. Then day of the job he made a few more inappropriate comments. As a single woman hiring someone for a job I would like to feel like I can feel safe in my home. They should be professional and not mistake my conversing with them during the bidding process as an invitation to be unprofessional.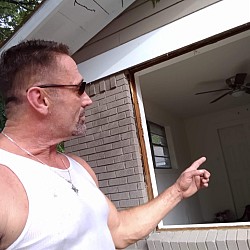 please take this off . I didn't me no harm. I apologize.