Main Services: Siding, Decks, Frame and Finishing Carpentry
Description: Pascoal Construction
We build projects on time, on budget, and serving the needs of our clients like its our own backyard we are working on.

If your home has started to look a bit worse for the wear, don't waste another moment. Contact the team at Pascoal Construction for prompt and affordable assistance. Not only will our siding, deck, hardscape, painting company enhance the look of your home, but you can rely on our team to help boost overall property value. On top of that, we make use of high quality products, so you wont have to worry about damaging the exterior surface of your home. Your property will remain clean and crisp for years to come!
What sets us apart from other contractors: Quality and Time
We are best known for: Siding Installation
See More
1 Reviews
Review Me
Work Description: Siding Repair
Comments: Well done, responsible, prompt. Very satisfied.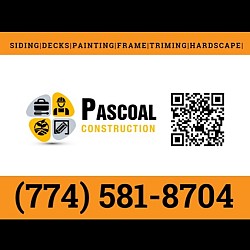 thank you so much Mike for your comment! It was a pleasure working for you!