Main Services: construction
Description: We are a customer satisfactory driven company! There is a lot of companies out there now that just believe in getting done and getting a paycheck but that is not our top priority. Give us a call and let's get the job done together! Cell- 812-826-4533.
What sets us apart from other contractors: Quality guranteed!
We are best known for: Remodeling
See More
7 Reviews
Review Me
Work Description: Home refurbishing
Comments: Yesterday I won a Small Claims Court for $9,999.00 for unfinished and poorly executed contracting work by Ryan Owen @ Elegant Panther. Ryan ruined 700 ft.² of carpet by cutting into 5 pieces, 200 ft.² of kitchen tiles, and failed to complete painting of the deck and exterior doors. Ryan took 101 pieces of wood floor boards to his "shop" to sand, stain and replace in my home. To this day I have no floor trim. Ryan wasI paid for all of this work and none of it was completed.
Work Description: Deck replacement and cement sidewalk and stairs
Comments: I would not recommend using this contract company to provide any services. Ryan Owen continued to ask for additional money as the projects proceeded stating that he would be finished in the next day or 2. However, he did not complete either job. Once I had paid him in full ($ 21,000.00) he never returned to complete the work. He then lied and told my husband that he would refund $ 9,000.00 for not completing the work verbally and in a text message, but only refunded $4000.00. I had to hire two other contractors to finish the work that this company started. Both contractors stated that his work was below standard. Very disappointed that Ryan felt that he could take advantage of us.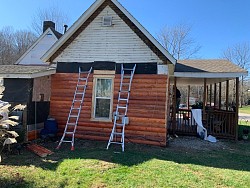 very sorry you feel that way. we would've finished but you guys were impatient and hired other contractors before we could finish. Also I have the receipts for $9000 in refunds, if your going to leave a bad review atleast get the facts out…
Work Description: Sealed my log home
Comments: They met all my expectations. Friendly and easy to deal with. I would use them again.
Work Description: Decks/Porches/Ramps - Repair
Work Description: Handyman
Comments: Ryan and RJ did several projects at my home today. All were done extremely well. They were professional, courteous and friendly. I highly recommend them!
Work Description: Junk Removal
Comments: Great guys! Came out and did the job I needed done just a couple days after contacting them. Very friendly and do great work at a reasonable price.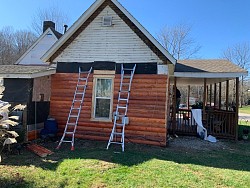 We appreciate your feedback!
Work Description: Handyman
Comments: Very friendly and knowledgeable. Made one small mistake. Came back right away and took care of the problem.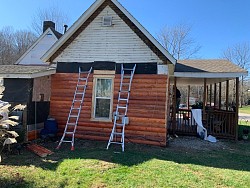 we greatly appreciate you feedback!!