Services: Asphalt, Concrete
Description: Nelson's Concrete Designs, LLC is family-owned and was founded in 2011. We have been providing quality concrete flatwork design all over King county. We are located in Maple Valley, WA. We are licensed, bonded and insured company.

We specialize in all aspects of Concrete projects, from the foundation of your home to patio's for you and your family to enjoy backyard Entertainments.

We offer Free Estimates and design consultation.

Our Specialty:

Driveway
Patio
Walkway
stairs
Basement floor
Foundation
Landscape
Sport courts
Fence
Demolition
Excavation
We offer a range of concrete designs: Variety of Stamp Concrete, Expose Aggregate, Broom finish, Stain (color of choice), Smooth, etc.

We look forward to doing business with you!
Service Area: Mcchord Afb, Vashon, Mountlake Terrace, Sumner, Preston, Graham, Federal Way, Rollingbay, Renton, Issaquah, Tacoma, Sammamish, South Colby, Olalla, Wilkeson, Retsil, Redondo, University Place, Burton, Snoqualmie, Hobart, Kent, Buckley, Southworth, North Bend, Wauna, Ravensdale, South Prairie, Puyallup, Spanaway
See More
7 Reviews
Review Me
Work Description: Concrete
Comments: If 1.5 stars was an option, that would have been my review. However, the work definitely does not warrant 2 stars. Nelson and his crew are very likable, but I was left with a mess after my wife made the final payment before I saw the completed job. Otherwise, final payment would not have been made.

The issues with our concrete were as follows:

-Uneven finish. Some areas that were supposed to be sand finish did not get finished at all.
-Several lines were not even close to straight throughout the project.
-Wrong Slopes. my front porch slopes towards my front door so now water will run into my house.
-Front porch is not straight side to side.
-Holes in concrete where forms were removed from steps before it was fully cured.
-Sidewalk lines are not even close to straight. They are wavy down both sides.

I will post photos below but the photos don't do the job any justice. It is hard to see in the photos just how bad and uneven the lines are. I really liked the crew, but I am left with a job that I am embarrassed of when I have guests over. That should not be the case when you pay $20,000+ for something.
Work Description: Horrible Deck and Concrete Experience - RUN from the company
Comments: I would describe the last 9 weeks as nothing short of a horrific nightmare experience at the hands of 4 Sons Concrete and Landscaping. RUN, don't walk away from this company and the owner.

Nelson Tatufu bid it as "three week job." We called them off the job on week 9 and with ZERO confidence in them to do any work or make any repairs without causing more problems and/or damage.

The below is only a small representation of the issues we are now facing. Bids to fix all the damage that was done is currently at 10k and counting to our yard, house and brand new fence.

Concrete
-Concrete was poorly poured, lines are not straight and sloppy "patches" that don't match were poured to cover up previous mistakes.
-House, fence, driveway and yard are splattered with concrete.
-Concrete ramp connecting to sidewalk is too steep.
-Dog run areas – which should look the same – have different gap spacings.

Decking
-Do not believe them when they say they can build anything for you. They can't do concrete, let alone a building project.
-Deck was poorly measured and did not line-up with our request. It is wider than we asked for and that resulted in contractor sawing a hole in a window box that should have never been touched to accommodate the railing. The cut was so sloppy that it exposed the interior of our walls.
-Mr. Tatufu's crew re-used old boards that had been used previously as concrete forms as the supporting structure for our new deck.
-Support beams and stair stringer were not pressure treated wood so they would never last in wet, Seattle weather. Plus, they were already cracked with chunks of wood falling off them.
-The deck boards were damaged with numerous misplaced and removed screws.
-The deck boards did not feel firm under the feet because they had not been properly secured to the base. Also, the base wasn't secure.
-Loose sections of railings have already fallen off the deck. Very dangerous situation!
-New railings are scratched and damaged do the crew leaving them out, and throwing them around for weeks.
-Railings along both deck and stairs are loose with missing bolts and very unsafe.
-Railings on stairs are not lined up with each other and one side is longer than the other resulting in a loose handrail that is unsafe.
-Countless, uneven, jagged, saw cuts on deck enclosure.

Other Issues
-Removed a fruit tree without our permission just so they could park their truck.
-House siding was damaged with tape residue, screws and staples. Screws and staples are still covering the fence and house siding. House will need to be repainted.
-Fence gates were removed and re-installed not in-line with the fence.
-Fence sections were removed and left leaning against walls resulting in fence board bending and looking awful.
-Gate latch re-installed upside-down after removal.
-Post cap missing from fence post.
-Contractor dismantled outdoor tortoise enclosure area without permission and are lucky to have not killed the tortoise.
-Constantly late and frequent cancellations even after asking us to block off street parking for multiple days in a row.
-Artificial turf is not properly secured in many areas, and the cuts are almost comical how horrible they are.
-Kept asking for more money beyond the initial agreement.
-Caused more damage and issues every time their crew came to "fix" past issues.
-Complete lack of care taken with our house and yard. The mess is unimaginable.
-Nelson brought his children multiple days to the job site, and they were here well past 10pm and asked to use our house multiple times for water, bathroom breaks. They could be found laying in the yard among the mess of the job site. Completely unsafe and a huge liability.
Work Description: Concrete Driveways/Floors - Install
Comments: Nelson was the best price for this job and started within days. Concrete stamped patio was formed, poured, designed and sealed to our specifications. There is one spot on the edge where it's not smoothed out and cannot be fixed. His workers left garbage from lunches, they left a lot of wood trash from the forms, and there was a lot concrete splattered on the house and fence. They did come back and clean after I asked. All in all we are satisfied. If you hire Nelson just ensure you are checking out each step, communicating, and that they are cleaning up.
Work Description: Excavation or Major Grading
Comments: No stars never showed for appt…tried to fake text later in day ..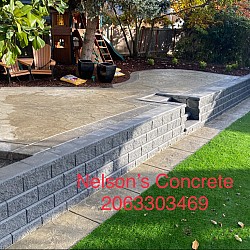 I'm sorry for not make it out there I text we have a emergency family and I can't make it there and I called to see if we can reschedule and scream on me you don't want it no more
Work Description: Artificial Turf, Retaining Wall, & Stamped Patios
Comments: From concept to completion, Nelson had the creative vision to help us craft our dream backyard. This included leveling our yard by 3ft, the creation of a clean retaining wall, and the staining/sealing of two matching stamped concrete patios. For the final touch of our modern artificial turf (thatch look), Nelson took all the proper steps (French drains, weed barrier, 5/8 & 1/4 crushed gravel, etc) to ensure its longevity. I would recommend Nelson and his crew for any concrete, retaining wall, or turf job, large or small.
Work Description: Driveway
Comments: Nelson and crew removed and replaced our driveway were so happy about this company and their work and all they do and clean up and on time
Work Description: Concrete flat work and design
Comments: Outstanding work performance and outcome. Nelson and his crew are hard working, respectful and professional. Pricing is more then fair and extremely competitive in the market.