Main Services: Garage Door Service and Repair
Description: We are pleased to introduce you to Garage Door Medics, a progressive garage door company born out of sunny San Diego, California in 1990. We serve communities throughout the United States with unmatched residential and commercial garage door services. We're here for you any emergency and we are your one-stop shop for maintenance, installation, repair, and parts. We strive to offer the best home service experience every time we service your garage door system. For over two and a half decades Garage Door Medics has been bringing trust, honesty, and transparency into the garage door service industry. We are a people company that sets the bar for garage door repair and installation. Our goal is to be the go-to service provider throughout the nation.
We are best known for: Our Oath
See More
7 Reviews
Review Me
Work Description: Opener/Remote - Repair
Comments: Excellent. Thorough inspection, quickly diagnosed the problem and provided the correction. Timely and reasonably priced.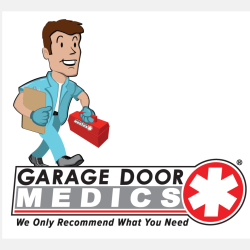 Hello Sheryl Sebastian, Thank you for the wonderful review and for taking time to share your feedback with garage door medics. Our priority is customer service, and we are ecstatic that we met that mark! Kind folks like you make our job a pleasure.
Work Description: Replaced the side door cables, Balanced the door, total lubrication.
Comments: Went right to work, explaining the overall condition of the door, removed all tension, replaced cables, balanced the door then complete lubrication. Not only did Rick have a great personality, but very professional. We definitely found our "door guy", if ever needed in the future.
Work Description: Garage Door Repair
Comments: I was developing quite a workout routine with my garage door for the past six months. Yes - from squats to rippin' bicep curls - the garage door served two functions: workouts and a way to lose my religion every time I tried to open it.
Enter Coby in his Garage Door Medics van - was able to see me the same day as the call! That is some quick service because I'm still waiting to hear back from the 'other' guys. Coby was extremely professional and was able to save my 'workout' machine. Now, my garage door is as smooth as elliptical runner. Very reasonable and extremely fast service - definitely worth the call (and try to get Coby - he really did a great job!!).
Work Description: Tune up
Comments: Great service, fast, friendly, and Saturday appointment with Jeff. Fixed the problem wiring to the sensors, showed me the fix, taught me what to look for when my springs start to go (not yet, but in a few years). Did a tune up. Price is right. Easy transaction and I could pay with my credit card. Email receipt so I can file it away electronically is nice. I'd recommend Garage Door Medics to my friends and neighbors, for sure!
Work Description: Garage door repair
Comments: Called Garage Door Medics on Monday morning after one spring broke. They had Gene Arnell at my house before noon. He expertly explained to me how the spring broke and what it would take to fix it. He recommended to replace both springs since the working spring is likely fatigued already (door is 5 years old). That was $440. He noticed that the door was noisy after installing the new springs and doing their $58 tune up. After showing me that the rollers were worn out, he recommended to get all 12 of them replaced @ $16.83 each for a total of $200 installed. After all that, my garage door is now quiet and smooth. Gene did an excellent job!

Just keep in mind that you're supposed to do annual maintenance of the door (lube, etc). We did not do that and hence the expensive repair bill. I did not shop around as they were recommended by a friend. So I do not know if these prices are typical or not. But if you need a quick fix, give them a call.
Work Description: Garage Door Repair
Comments: Had my garage door go haywire on me after a power surge in my neighborhood. Garage door medics were very prompt for a Sunday. Rick was my technician and he fixed my problem within minutes of problem solving. He also indicated a few areas to be cognizant of in the upcoming years, but didn't try to up-sell me on further products and services which was a breath of fresh air.
Work Description: Replace wireless key pad and service the garage door.
Comments: Everything went well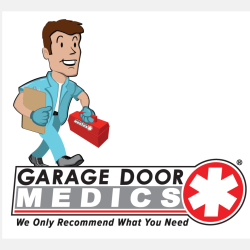 Thank you Christine for your 5-star review!