Main Services: Painting . Cabinet Painting . Drywall. Flooring . Kitchen & Baths . Historical Restoration . Smoke , water . General repair maintenance services.
Description: With Over 25 Years Experience FPR Offers A Wide Variety Of Services, Including: Painting Interior/Exterior . Home Alterations. Kitchen & Baths, Historical Restoration. Master Carpentry. Hand Crafted Repurposed Barn Wood . Custom Recessed Cabinetry & Shelving. Flooring . Superior Interior Protection Wrap. Property Management etc.
All Work Is Promised To Be Completed In A High-Quality Professional Manner.  
FIEDLER PAINTING & RESTORATION® Are Fully Insured, Licensed Professional General Contractor In The Commonwealth Of Pennsylvania, PA125703. Any Questions Please Call Or Text Jason Fiedler Owner/Operator
@ (267-644-6501) or email;  fiedlerimprovements@gmail.com.
What sets us apart from other contractors: As a 4th generation professional general contractor, I strive to provide the excellence in service with the integrity instilled in me by my father. At the age of 12 my family baught an acre of land in Warrington PA and we literally built our first house from the ground up as a family. There are pictures of me finishing drywall on stilts, framing & painting. I particularly was very good at painting with a steady hand and artistic eye. I had the opportunity to work for well known individuals and in 26 States. I worked as a poly engineer for 6 years, I'm OSHA certified and hold multiple other certifications.
We are best known for: Excellent craftsmanship . Owner works on site . Respectful and kind .
See More
5 Reviews
Review Me
Work Description: Drywall Repair/Patching
Comments: Jason did an awesome job and met all of my expectations. He started out by sending me his daily schedule with target completions by day. He was extremely neat, and cleaned up everything when finished. Job was completed as promised and looks great.
Work Description: Painting and Patching
Comments: Best described as sloppy and rushed. Attempted to texture spackle instead of paint. Making the room unpleasant to the eyes. Excessive dust. I have made numerous attempts to allow owner to correct the situation, prior to posting this review. Will most likely need to hire another painter to fix his work.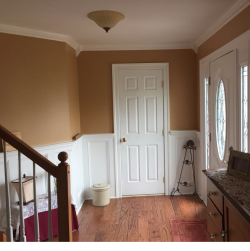 Janice is best described as unstable. After the 2nd day she tore up all of our tarps from the hardwood floors for no reason. This was our superior interior protection. Using specialized plastics, cellophane back carpet padding and standard tarps. The installation proccess took 2 men the better part of a day to install. As professionals we vacuumed and polished her hardwood floors and reinstalled them at no extra charge. There are many other items to which we did not charge anything extra including; 1. Removing a 2 x 4 that was lag bolted to the plaster. 2. Removing her television mount off the wall. 3. Patching large holes that weren't initially included. 4. Providing emergency services aa Mrs. Storms ceiling was collapsing. 5. Hiring a professional cleaning service to clean the dust created when she tore down our plastics and floor coverings. Janice continually complains about her ex-husband and seemed to project those feelings on me and my crew. When the project was near completion I let her know I needed to come back for some touchups, she insisted that everything was good and she could handle the touch ups herself. She signed off on a (Satisfactory completion form) that stated she was happy with the work, paid the remaining balance. My company has five star ratings in every business and social platform. We did all we could for Mrs. Storms and would not recommend contractors accepting any work from Janice.
Work Description: Rebuilt finished flooring, cabinets , drywall, painted
Comments: Very personable and meticulous, very honest. Definitely a 5 star experience, thank you!
Work Description: Beautiful custom made shelving & recessed Cabinetry. Repurposed barn wood.
Comments: The owner of Fiedler Painting & Restoration is a brilliant master craftsmen. He will build a work of art! And every piece is one of a kind. Let him be creative, Hire him if you want to be amazed!
Work Description: His worker Lou was very pleasant, worked hard, and did a great job.
Comments: Jason was full of energy, and a fast worker. He also was very pleasant and went out of his way to make sure I was satisfied.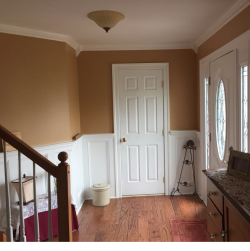 Thank you! We very much appreciate your kind words and for taking the time out of your busy schedule to send this awesome review! It was an absolute pleasure meeting you and some of your friends and family! Thank you for giving us the opportunity to improve your home. Have a wonderful day, we look forward to working with you in the future. Lou asked me to say hello & thank you for the (V8) drinks! Warm regards, Jason Fiedler FIEDLER PAINTING & RESTORATION®