Main Services: Plumbing, electrical, carpentry, drywall, bathroom renovations
Description: Reliable and priced fairly-family owned and fully insures


Service Area: Bath, Kunkletown, Walnutport, Ackermanville, Mount Pocono, Scotrun, Brodheadsville, Pocono Summit, Analomink, Pocono Lake Preserve, Tannersville, Blakeslee, Swiftwater, Pocono Manor, Wind Gap, Albrightsville, Bartonsville, Pen Argyl, Lehighton, Aquashicola, Henryville, Flicksville, Reeders, Pocono Lake, Kresgeville, Effort, Jim Thorpe, Lake Harmony, Stroudsburg, Bowmanstown
See More
2 Reviews
Review Me
Work Description: Painting and tree pruning
Comments: On time. Nice clean job. I plan to use them again and again. Quite amazing …Dave can do anything!
Work Description: Front porch and stair repair
Comments: I can not even put it on words how happy I am with the work DJK handyman has provided . Their pride in their work , and work ethic is unlike any I have seen. They respond quickly, go above and beyond for their customers , and have extremely reasonable prices. They are such wonderful , friendly people , who put their customer satisfaction first ! They also make sure they are working at the highest safety standard and assure things are done 100% correct the first time ! I highly recommended them, and will absolutely use them in the future for more projects !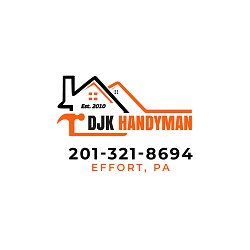 Thank you so much Caitlin!!