Main Services: Home Improvement
Description: We are a company with more than 15 years of experience in home improvement. We work with our customer to satisfy their needs, and their wishes. Being a family oriented company give us the sensitivity, knowledge, and pasion on what we do.
See More
1 Reviews
Review Me
Work Description: Ariel's Home Improvement replaced the whole floor, remodeled my kitchen, remodeled my bathroom, supervised the new roof on my house, and other remodeling projects in my home.
Comments: I am very satisfied with their work. They are a great contractor.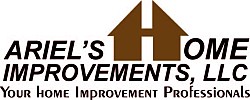 That is the main reason why we are here.