Main Services: INTERIOR & EXTERIOR PAINTING
Description: For over 15 years, our family business has proudly have served our community with honesty and integrity. No matter the size of the project, Our aim is the same: To exceed your expectations and earn your respect.
Our business is Licensed and Insured with a high expertise and proven results in Residential and Commercial projects including Interior and Exterior.
Let us help you reach your goals.
Our family business is to reach your goals with your budget.
Our business focus is to reach your goals within your budget.

"Give me your budget and we'll make it work!"

http://Allqualitypaintingjp@gmail.com
What sets us apart from other contractors: What sets us apart from other contractors ,however ,is that we do not look at it as just painting your house .We know that a touch of color can add an important feeling to a room; we understand that your house is not just walls and windows, but it is the home where you raise your family, welcome friends and build your life .
We are best known for: OUR QUALITY OF WORK
See More
2 Reviews
Review Me
Work Description: Interior and exterior painting
Comments: All Quality Painting and Jonathan is the best Company..!
Jonathan did a great job painting our restaurant, exterior and interior, everything looks great and fresh.
They are honest, reliable and very reasonably priced. Have used them several times for everything from painting to complete remodeling. I Highly recommend this Company 100% thanks Jonathan and his team..!!!
Work Description: Interior Painting 3+ rooms
Comments: Constantly late , poor communication in timeline of project. Told us he would be at our house in an hour never showed , went to another job. I will never consider them again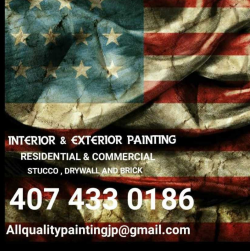 The day I went to do the free Estimate I was 10 minutes early, I had to wait 30 minutes until Mr Matthew go home . The interior painting job got done before time and with not money at front at all, the day I finished the job I didn't get pay ,they told me next day and the next day I was going to meet Mr. Matthew's wife at 10:00 am to get pay in emergency came to me that morning ,I was late 2 hours to pick my check . She was mad even knowing that I text her to let her know my inconvenience. Sincerely, Jonathan P.