Main Services: Painting, both interior and exterior, carpet, vinyl, ceramic tile, sheet rock repair, plumbing repairs...etc
Description: All American Maintenance has been in business in Gaston County since Nov. of 2001 with much success. My business is a registered with the state of NC as a HUB (Historically Underutilized Business). I received this classification due to being a solely woman owned business. Most of my employees are female, all are American, English speaking citizens. I specialize in the maintenance and repair of rental and foreclosed properties, however, I am not limited to just those areas. My goal is to provide quality workmanship at a competitive rate and in a timely manner. Free estimates provided with a friendly smile! I look forward to doing business with you!
See More
2 Reviews
Review Me
Work Description: Painting, carpet, flooring, wood replacement, gutters, carpentry work.
Comments: I have been using All American Maintenance since 2002 for many different projects and the service has always been great.
Work Description: All American Maintenance has done painting, plumbing repairs, and carpeting.
Comments: I have been very satisfied with their work and would recommend them to other people.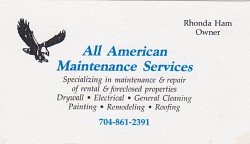 Thank you Jerrie (correction of spelling of name) and I have enjoyed our ongoing relationship with the foreclosures and look forward to many more years. Again thank you!