Main Services: Concrete, Stone, Paving, Brick, Block, & Tile, custom Masonry, Swimming pool hardscaping and more!
Description: Our company is specialized in concrete work. Concrete foundations, driveways, stamped concrete, paving, stone work, brick, tile, and many more services. Our company offers a large variety of home improvement ( residential) and also commercial services. We also specialize in roofing.

Phone : (860)481-1099
Service Area: Poquonock, East Berlin, Stamford, Redding Center, Darien, Botsford, Cos Cob, Danbury, West Hartford, Bethel, West Hartland, Collinsville, Easton, Southbury, Farmington, West Granby, Wilton, Redding, Lakeside, New Preston Marble Dale, Old Greenwich, Plantsville, Avon, East Glastonbury, Trumbull, Hawleyville, Glastonbury, New Fairfield, West Suffield, New Canaan
What sets us apart from other contractors: We've been in the business for over 20 years in the US. Serving the tri-state area with some of the highest custom work. Our experience comes from an extensive third generation of masons. Family owned and operated business. Just know you're in the right hands.
We are best known for: Our work speaks for itself. Quality, integrity and honesty are what makes us who we are. We know more, because we've done more!
See More
19 Reviews
Review Me
Work Description: Build new walkway
Comments: These gentlemen are phenomenal, their work is amazing, I have to recommend several families and friends, they are doing great work.
Work Description: Interlocking Pavers-Driveways, Floors Install
Comments: Just had 2 patio's put in by ADR and had a great experience. They look great and completed on time with no surprises. Ed's a great guy to work with. Highly recommend ADR. Rob in Glastonbury
Work Description: Carport Floor, Walkway, and Driveway
Comments: My wife and I are very pleased with the work ADR Masonry recently did for us. Both the concrete work under the carport and paver walkway came out great, were completed on time and at a fair price. The walkway is especially visually pleasing with its contrasting color scheme. The driveway resurfacing is topnotch as well. Ed was onsite for all phases and very patient in addressing all our concerns. We highly recommend his services. Our only regret is not having the work done 10 years earlier!
Work Description: Retaining wall
Comments: ADR Masonry did a phenomenal job on my retaining wall. Eddie is extremely professional and delivered an outstanding product in a timely fashion. The wall looks beautiful. I would highly recommend ADR Masonry for any masonry job. They are an outstanding company.
Work Description: Concrete Driveways/Floors - Install
Comments: I engaged ADR for a backyard basketball court with a wall surrounding it. My experience was outstanding, and I am VERY pleased with the results. Eddie was a pleasure to work with throughout the entire process. He is polite, well-spoken, funny, and enjoyable, and his team did a terrific job. They did what they said they'd do, when they said they'd do it, did it beautifully, and cleaned up after themselves. They made recommendations along the way that led to a better outcome than I envisioned. I couldn't have asked for any better. I am extremely pleased with the results, and I will be contacting ADR Masonry for future projects, and give them an unequivocal positive recommendation.
Work Description: Concrete Driveways/Floors - Install
Comments: Eddy from ADR..... We are appreciative to have had an opportunity to speak with him... He was so considerate of our questions and possible needs for concrete work on our inground pool deck.
He was extremely informative....now we need to make some decisions.... Thank you!
Work Description: Outdoor Patio, fireplace & bluestone table
Comments: Great Guys, even better work.
Work Description: Pavers - A n uniquely shaped patio was created for our grandsons' enjoyment with concrete pavers.Patios, Walks & Steps - Install
Comments: ADR Construction was prompt, responsive to our input and needs and done ahead of schedule. My wife enjoyed immensely Eddie's sense of humor and I appreciated his input on colors and design. We are delighted with the result. The patio blends perfectly with the existing deck in color and form.
Ralph Buonocore Madison CT
Work Description: Concrete Resurfacing
Comments: Nice people. Great work.
Work Description: Interlocking Pavers-Driveways, Floors Install
Comments: Beautiful work. Nice people. Good price. Only negative they could have cleaned up a bit better.
Work Description: Paver Patio
Comments: I got a quote from Eddie about a year ago. At the time I was price shopping to see what type of price range a paver patio would run me. Out of all the quotes I got , ADR contracting was the most aggressive pricing I received. When I called Eddie almost a year later, he stood by his quote.
He walked us through the entire process, always followed up and was there on time whenever he said.
He gave my wife and I a variety of choices and styles to fit our vision.
Our paver patio looks great, we couldn't be any happier with our outdoor living space. We are so pleased with his work we are considering getting our front and sides steps redone soon. If you need any work done you should call Eddie and his crew over to take care of your project. Not only did we find someone we can trust, which is half the battle, but they also do great work. Plus we found a friend in the experience.
Work Description: Custom Outdoor kitchen & Bluestone Terrace
Comments: Unbelievable guys ! Cannot be happier with ADR for taking care of our needs and turning our backyard into our dream oasis. The craftsmanship and workmanship from these fellas is just outstanding. Don't have anything else to say but HIGHLY RECOMMEND !! Jim and Eddie made sure we were happy with each stage of our project. Their crews were extremely professional and courteous of our neighbors during the entire process. Happy to recommend them to anyone who would like to have their backyard and home transformed.
Big thank you to the ADR Family !
Work Description: Blue stone Patio,
Comments: These guys ( Jemir and Ray) installed a blue stone patio for me last year (2018). I liked the work so much that I had them come this year for a new project. They are very patience and understanding. They help turn my idea into reality. I look forward to them coming out next year for a additional project.
Work Description: ADR Masonary did a retaining wall, stone wall, flat work, and block work.
Comments: I would absolutely recommend them. They did a great job.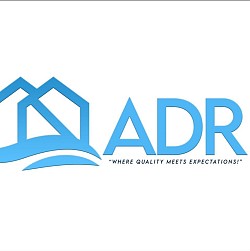 Thank you for your review. We are happy to be of assistance in the future. ADR Masonry
Work Description: Concrete floor, Stone wall and paving
Comments: Very satisfied. These guys are the best. High quality of work, best pricing. They had great ideas and also very truthful. I would definitely recommend them to anyone.
Work Description: Rip up old tar walkways and grass area and replace with pavers for a patio and 2 walkways.
Comments: Very accomodating, polite, fun and flexible family crew. Expert workmanship. Extremely competitive pricing. We plan on breaking in the new patio by having the ADR family over for a BBQ...we are that pleased. Thank you.
Work Description: Retaining walls, stone walls, indoor and outdoor fire places, Belgium stone work and all types of masonry projects.
Comments: He is great in every aspect and his craftsmanship is excellent, always on schedule, very flexible and always within reason.
Work Description: Chimney work.
Comments: May i just say that they did an incredible job. Very much on time. Finished the project when it was told to be finished. Very flexible with the payment to. They waited until the end to get paid in case I did not like anything with their work. Over all Great guys and I would greatly recommend them.
Work Description: new patio
Comments: quickly and expertly done