Main Services: All aspects of interior and Exterior trim carpentry and Fiber Cement Siding Installation
Description: Accurate Carpentry is a minority owned company started by myself and my husband. Having worked with our hands all our lives, it was only natural to start a business doing what we loved. Established in 2005 we have 20 years experience in the construction industry. What started as a hobby, evolved into a rewarding business. There is nothing better than a pat on the back for a job well done. We won't settle for anything less than your complete satisfaction. We not only work for well known builders and suppliers but also value each and every homeowner as well. Our love for workmanship inspired us to form our company to offer what our competitors do not:

Service, Integrity, and Quality
We take the time to address customer questions and concerns to satisfy both the builder and the home owner. We haven't compromised in our commitment to offering exceptional workmanship, competitive pricing and a good old fashioned approach to customer service. A professional approach, work ethic, and superior quality of work are what we strive for. We do what we promise, and perform efficiently and perfectly the first time.

Our crews stay on schedule, we show up on time for appointments, we return phone calls, we offer thorough proposals, we meticulously clean up jobsites, and we deliver world class customer satisfaction.

You are our best calling card. We never forget that.

We are proud members of the Home Builders Association of Cincinnati and the National Home Builders Association, an accredited BBB business, an EPA Lead Certified Firm, and PROUD to announce a Preferred Remodeler for James Hardie Fiber Cement Siding.

Our professional approach to evaluate your needs will help you determine the best way to preserve and maintain the integrity and appearance of your home or building.

Our focus is on making the home remodeling process convenient and enjoyable for our customers. Improving your home with new trim, siding, a deck/ porch installation, cabinet installation, interior remodeling, or any of our other services is an exciting prospect and we share in your anticipation of a beautiful looking home.

Mission Statement
Our Company is in business to improve the lives of our customers by providing the highest quality products and workmanship and creating the best possible home improvement experience for them. We will always strive to exceed our customer's expectations.

Choosing a home improvement contractor is a daunting task in any time. It is doubly true in these tough economic times. When so many companies are going out of business, your choice becomes even more important. Feel free to contact us and find out what a professional home improvement company is like. You deserve to have professionals working on your home.
See More
1 Reviews
Review Me
Work Description: They have been doing my carpentry work for me (interior and exterior).
Comments: They have been doing work for me for 4 to 5 years. I have nothing but good things to say about them.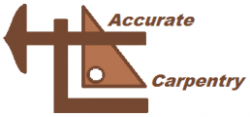 Thank you for the review Santosh....you're pretty awesome to work with too!