Main Services: PLUMBING/HEATING/COOLING/DRAIN CLAENING
Description: We have an overwhelming desire to make sure that in everything we do for our customers it is clear that "we love what we do and to make sure it shows". We will always be - Totally Accommodating, Honest & Affordable.
We make sure the highest quality plumbing materials are used in our projects.
Provide the best skilled plumbers to do the job.
You won't get a handyman doing the job a professional tradesman should be doing.
Provide the customer with the maximum return on their investment through our guidance, experience and professionalism.
We enjoy the privilege of providing quality old fashioned work and manners combined with the very latest in technology, technique, and materials to provide each of our customers with the "best bang for their buck
See More
20 Reviews
Review Me
Work Description: Faucets/Fixtures/Pipes Repair/Replace
Work Description: Drain Clog/Blockage - Clear
Work Description: Water Heater - Install/Replace
Comments: Immediate response
Good work
. Didn't compare the price so I don't know
Work Description: Faucets/Fixtures/Pipes Repair/Replace
Comments: Good job so far.
RONALD Manchester Township NJ
Work Description: Remove and replaced kitchen faucet with new one
Comments: Extremely happy with the gentleman who showed up for replacing for the faucet . Well groomed and friendly . Job was completed in less than an hour . Neat and absolute knowledgeable of task . Explained the operation of the new unit. Highly recommend the company for an excellent job .
jingxuan Princeton Junction NJ
Work Description: change the cartridge to get the hot water.
Comments: it's a easy job which took only about half hour to finish.
they charged me $309, is it too expensive?
Work Description: Change cartirage in bathroom.very expensive e.not direct.leaves a big mess.u have to clean.a big lier.find some one else
Comments: Terrible
Work Description: cleared toilet backup
Comments: Was able to complete the work, along with advice on the type of toilet as well as discussed shower heads and second toilet.
Work Description: Fixed an outside leak.
Comments: Gave a free estimate. Plumber was friendly and knowledgeable. Would definitely recommend this company. .
Work Description: The heater guy diagnosed and repaired the problem quickly. He was very professional.
Comments: On the bill they itemize a price for fuel $9- technician transportation fee - separate from the service fee.
Work Description: The gentlemen was very curtious and was very pleasant. He evaluated the problem and took care of it in a professional manner. He explained the situation to me. I would recommend them highly.
Work Description: Had 4 customer-supplied bathroom faucets changed.
Comments: Promptly came over to give estimate after calling them. Inspected & provided "package deal" estimate (other 3 faucets installed at a discounted rate. Plumber knew his stuff - completed job in 2 hours !
Helen Jackson Township NJ
Work Description: repaired leak under washing machine
Comments: arrived quickly after call, made repairs on the spot, were pleasant and respectful.
earlier contractor quoted price for complete repiping instead of finding leak and repairing it.
Work Description: Malfunctioning toilet
Comments: If I could give A Bailey 10 stars, I would! Service rating was A+, superior, fabulous, magnificent & honest! After getting 4 other estimates to replace a toilet, A Bailey came by and told me that the existing toilet could be fixed. That is an honest person who truly cares about his customers. I would highly recommend A Bailey Plumbing to anyone who wants a reliable and honest plumber to rely on. This was a Godsend from the Yellow Pages!
Work Description: Change out main shut-off valve
Comments: Responded witthin 20 minutes via phone -- another contracter responded next day -- third one no call at all
Work Description: A.Bailey came out quickly and replaced my leaking water heater. they used drop cloths and cleaned up, very neat and professional::::
Comments: Highly Reccomend
Work Description: Provided all materials for a complete swap out of existing equipment. Charged $500 for complete swap, else, the plumber sent out was courteous, respectful, and knew what needed to be done. One of the connections was still leaking after work was done and they immediately dispatched same guy to come back and correct. No questions asked - very responsive and took ownership of work. Would recommend for capability, however, get comparible pricing before contacting them - they are expensive.
Work Description: Replace leaking polybutylene fittings
Comments: Punctuality was fabulous, but price was high, considering that he didn't replace a valve in the same group because he said it wasn't leaking. It is polybutylene and it will probably leak before I have the chance to do a complete piping replacement.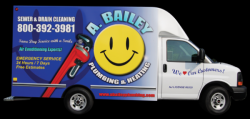 We are always looking for the best intrest of our customers. We do not replace anything that does not need to be replaced. We will do anyhting the customer wants.
Work Description: snaked the sewer pipe.
Comments: $369.00 WOW!!!! took about one hour,
but it worked so what can I say.