Description: A+ Sparkle & Shine Cleaning Services has been in business for 30 years. " We'll take the pressure off you." Providing professional residential home cleaning has given us a reputation for quality and reliability. We care about providing a consistent, thorough clean. We guarantee our work, so if you're not satisfied, we will clean it again for free! We also provide all equipment and supplies and do windows! At A+ Sparkle & Shine Cleaning Services we respect our customers, their homes and their time because what use is free time if you spend it worrying about your maid service? Call us today for one time, biweekly, monthly, or vacational cleaning!

See More
2 Reviews
Review Me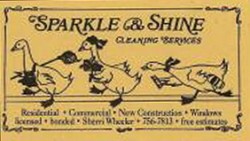 Thanks so much for this awesome review!
Rebekah University Place WA
Work Description: Move out cleaning of 850 sq. ft. apartment w/o carpet
Comments: Very reasonable price, but I ended up having to go in afterwards and still do some cleaning up of a few areas on the walls and window sills. The floors were not well done either. However, the lady was very professional and nice. I don't know if I am just overly picky or it could have been better.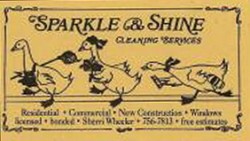 I was surprised by this review . I was on this job myself and worked very many long hours to complete this job. we were not hired to clean the walls. this lady was nice and paid for the job upfront. I made sure this apt looked great win we left. All the hardwood floors were very clean when we left. I feel this was not an accurate review. next time I will ask the client to look at the job with me at the end.