Main Services: Interior- Exterior Painting
Description: A & M Painting is a company owned and operated by two field veterans, known for high quality and consistent on-time completion of projects. Our goal is to provide high quality work at a reasonable price and always exceed expectations with clean, professional and detailed work.
Our jobs are handled in a efficient orderly manner. A detailed preparation and using high quality paints and materials are the key to obtaining a durable and great paint job. Our work is 100% Guaranteed to Satisfaction.
When we come to your home or business to paint we do the job right every time, but we're also flexible enough to tailor the job to your needs.We do all the little things that set us apart, a detailed painting process is explained to our customers (in writing) before we start the job.
We follow your suggestions and special requests, but rest assured we have the experience to work independently.
Our customers choose us again and again because of our commitment to quality and service.
A & M Painting can provide you with interior & exterior painting; all sizes of jobs, from a fresh new look for the living room to full residential & commercial painting jobs.
See More
1 Reviews
Review Me
Work Description: Interior repainting
Comments: Excellent job, neat and clean. Will hire again when painting is needed.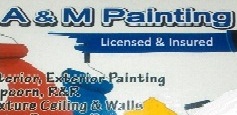 Thanks for the review !!!