Main Services: Roofing: Asphalt Shingle, Repairs, New Roofs, Custom pressure treated and composite decks. & vinyl replacement windows
Description: Deaville Roofing & Construction has the experience and expertise to handle any home improvement job you might have in mind. We offer a wide range of services, including: Roofing, Windows, Siding, Decks, Skylights and more. Our company is an accredited member of the Better Business Bureau, so you can count on us for superb service and highly rated customer satisfaction. We have been in business since 1987 serving the residents of Charleston and the surrounding areas with friendly craftsmen and beautiful work. We do not require deposits before we start a job and won't collect payment until you are happy with the results. Call Deaville Roofing & Construction today for your free quote!
Service Area: Joint Base Charleston, Goose Creek, Johns Island, Sullivans Island, Ravenel, Charleston, Summerville, Ladson, Mount Pleasant, Moncks Corner, North Charleston
What sets us apart from other contractors: We are a local family owned business of 36+ years. We are a company with Integrity and believe in giving back to our community. A percentage of every job goes to others in need. We are proud to have made this our mission.
We are best known for: Quality Roof replacements and repairs at a fair price!
See More
4 Reviews
Review Me
Work Description: Roof Repair - Asphalt Shingle
Comments: My husband and I call Deaville and he came out the same day and fix the problem the same day and we highly recommend huh because he told us what the problem was and he got right on it we really appreciate all the knowledge that he had we are another satisfied very satisfied customer thank you Kenneth and Rose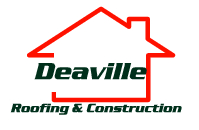 I appreciate your business Mr. and Mrs. Chaplin-Rouse and it was a pleasure meeting you. Referrals are always welcome, as well. Thank you again.
Work Description: Initial meeting to provide estimate for the installation of a new roof.
Comments: Contractor was prompt in arriving at my home and very professional in inspecting and giving me an estimate. Will definitely refer him to friends.
Work Description: Roof estimate
Comments: This company has been very professional and courteous in their business dealings with myself. I highly recommend this company and will continue to do business with them.
Work Description: Roof of two buildings, home and work shop, in either tile or metal. Everything was fine until I received the pricing, which was so much higher than other roofing contractors.
Comments: It is a matter of choice, one vendor virus another, as a senior citizen being given that is very northern took the quote completely out of the range, the representative was very polite and professional, unfortunately he just arrived in South Carolina, where extreme weather is not a problem and our economic resources are far different than up north.