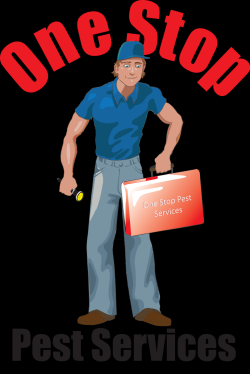 Prescreened by Networx
One Stop Pest Services, Inc.

License:

11314

License:

93976-C

In Business Since:

2001

Company Overview:

One Stop Pest Services, Inc. have been providing exceptional service in the DC Metropolitan area for over 20 years.

The mission of One Stop Pest Services is to provide quality pest control services to our clients.

One Stop uses Integrated Pest Management (IPM) to integrate the most appropriate and environmentally correct pest control methods.

Our technicians are trained, licensed and certified professionals who take pride in punctuality, honesty, safety, strong work ethics and bonding with our clients.

Website:

http://www.onestoppestservices.com
Reviews By Customers
Review by: Anthony Deaver from Sterling VA
Work Description: Professional extermination
Comments: I met an honest man. His name is Marvin, owner of One Stop. Knowledgeable and professional. Trustworthy. What else matters?
Review by: Raza from Chantilly VA
Work Description: When I was cleaning my Living Room, I found several nice dropping behind my couch. I found out we had a mouse problem and I called Marvin At One stop pest control. The next day, Marvin came to our house. Marvin was wonderful and very knowledge. He took care of our problem and Sid he will contact in one month for a follow up. Thank you so very much Marvin!
Review by: Mark Rusin
Work Description: Consult on suspected insect damage.
Comments: Extremely polite and professional. Honest opinions and easy solutions identified!
Review by: Gina Rothwell from Alexandria VA
Work Description: Termite extermination
Comments: Was very impressed with the way Marvin contacted us immediately following our inquiry.
Review by: George Nicolas from Alexandria VA
Work Description: Pre-House Sale Termite Inspection
Comments: Was very knowledgeable, efficient, and personable. Would hire him again!
Review by: VICTOR KOHNKE from Aldie VA
Work Description: INFESTED WITH WASPS
Comments: MARVIN WAS ON TIME (YOU RARELY GET THAT ANYWHERE) HE WAS VERY PERSONABLE, CLEAN AND EFFICIENT.THANK YOU MARVIN!!
Review by: Bill Brykczynski from Fairfax VA
Work Description: Stinkbug eradication.
Comments: Marvin was excellent! We had a stinkbug infestation and he did an excellent job of eradicating them. He also took the time to explain a lot of issues. I would not hesitate in recommending Marvin. Two thumbs up!
Review by: Nuala Cowan from Alexandria VA
Work Description: Everything was completed to satisfaction
Comments: Marvin was a gentleman to deal with. Service was very prompt and accommodating of our tight schedule. I would recommend this group, Marvin in particular.
Review by: Ajoke'
Work Description: treatment and prevention of roaches
Comments: Mr. Marvin is extremely knowledgeable and professional. He gave me several options and we were able to come up with an effective treatment plan that was friendly to my family and pockets!! I would highly recommend One Stop Pest Services. :)
Review by: Shawn Mewhorter from Woodbridge VA
Work Description: Termite inspection. Also treated for spiders
Comments: On time. Thorough. Professional
Review by: Marvin "Rip" Winter
Work Description: Performed total pest management to include Removal of Wildflife, Bats, Snakes, Deers and Raccons; General Pest: Rodents, Cockroaches, Ants, Birds, Bedbugs and Stink Bugs; Flying Insects: Carpenter Bees, Yellow Jackets, Wasps, Mosquitos; Wood Destroying Insects: Termites, and Carpenter Ants
Comments: It is my pleasure to introduce Mr. Marvin Goodman as a Pest Control Professional. I have worked with Mr. Goodman for two years during his tenure with Pestmaster Services, Inc. performing pest management at the United State Naval Academy. His attention to detail, thorough inspection of the premises and follow-up was exemplary. Mr. Goodman's promise to complete the task was as good as his word. His ability to understand the customer's need and willingness to see the task through to completion was of the highest quality. It was a great lose to our company and to the Academy when Mr. Goodman decided to venture out forming a new pest control company, One Stop Pest Services. Anyone looking for a good pest management company would do well contracting or hiring Mr Goodman's new company. Respectfully, Marvin "Rip" Winter Assistant Profect Manager IAP World Services, Inc. U.S. Naval Academy 571 Kingwood Street Annapolis, MD 214025
Review by: Linda Younger
Work Description: Quarterly maintenance for roach and rodent control.
Comments: Service is professional, reliable, and dependable. Followup is great!!! Mr. Goodman is knowledgeable and fully explains the problem and solution. Would highly recommend One Stop Pest Services.
Review by: Jorge
Work Description: Crock Roaches and Rodents.
Comments: The services was great exterminating Crock Roaches and Rodents.
Review by: Rev Jesse Jones Jr.
Work Description: We had a bunch of ants, so Marvin managed to get rid of them for us by putting stuff down inside and outside.
Comments: I am very satisfied with Marvin. He gave us recommendations for future prevention. I have recommended him to others.