---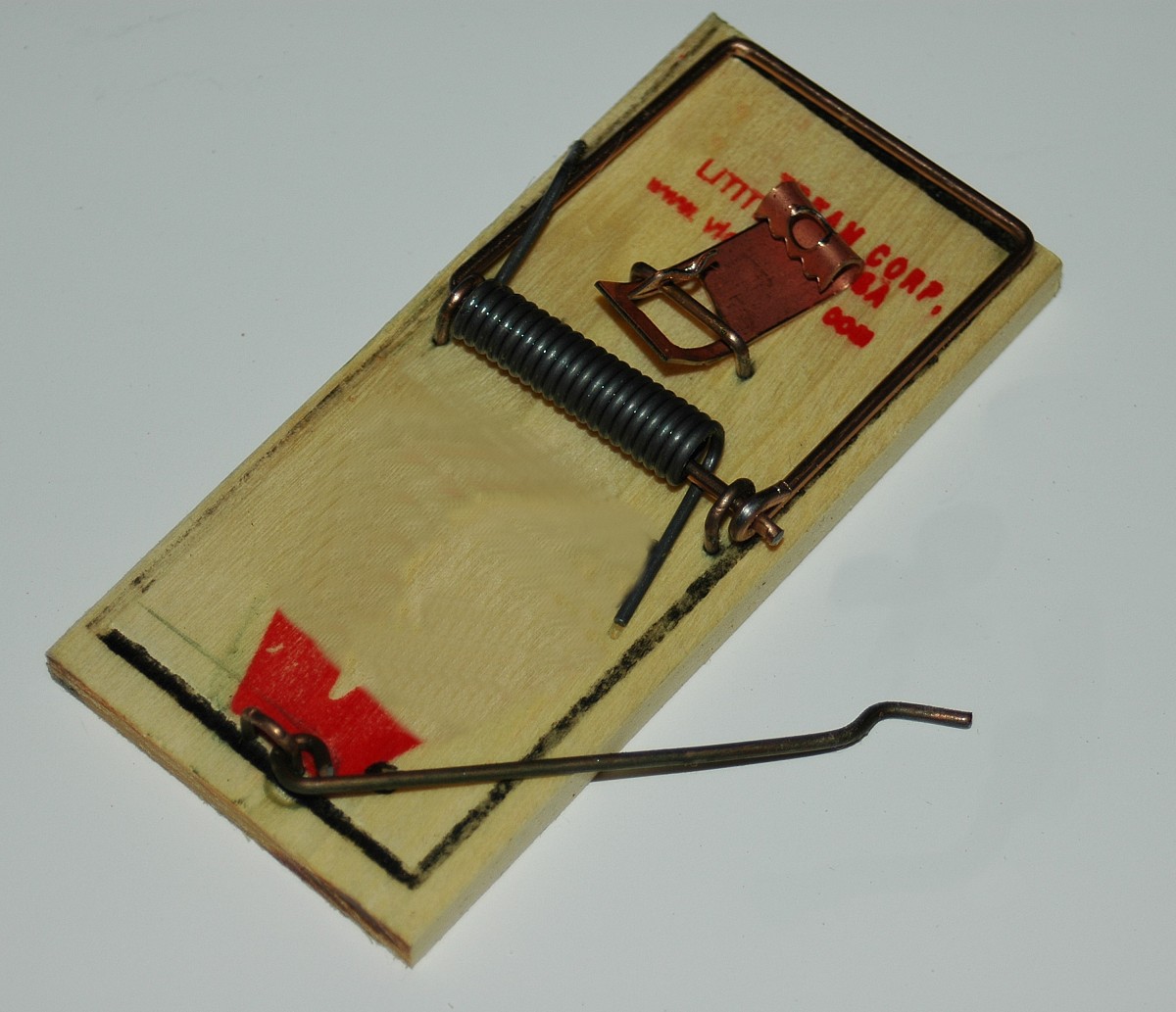 It was more what I heard, first, than what I saw ... Late one night, I had fallen asleep in the recliner in my bedroom when I noticed a mysterious scratching noise. At the time it started, about 2 am, I tried to tell myself maybe it was the house settling somehow or the A/C system -- or maybe I was just hearing things. I drifted in and out of sleep for about another hour until I couldn't ignore it any longer. I decided to turn on a light and wake up my son up to ask, "Can you come in here and listen to this? It sounds like there's a critter in the room." Sure enough, as soon as I went into the bathroom, he jumped and reacted, and the mouse started racing toward the hallway.
My son and I were so petrified that we holed ourselves up in the bathroom with the door closed. You would have thought we had a lion in the house. Pretty sad, when you think about it. I asked him to quickly grab my phone, which I had left in the bedroom, and I just started googling 24-hour pest control. I couldn't come up with any other strategy, because I literally have never encountered a mouse before in my life.
Over the next few hours, I got a number of responses. I did actually find someone to talk to at 4 in the morning. When he picked up the phone, he told me, "We can have somebody out there when our office opens, but there's nobody to come out right now." This was a little surprising to me because even though it was a really weird time of morning, I had specifically googled for 24/7 emergency pest control. So I was thinking that a pest control pro would be available at that ungodly hour … but apparently not. I didn't end up using that company but rather One Stop Pest Services, Inc, who texted me at about 8 am. When their tech told me, "I have an opening today if you want," I answered, "Absolutely! Even better if you could get here yesterday!" I used him because he was the first contractor that was able to commit to a time -- 11:00 the same day.
Here's what One Stop did for me:
came out promptly
looked around the perimeters outside my house to first assess where it may have entered
identified the entry point and closed it up
pointed out the droppings, which were mainly outside my room, in the hallway
put down 11 traps inside on the top floor, because there was no evidence of droppings anywhere else other than on the top floor where all the bedrooms are
advised that he could come to follow up as needed
We did have to call him back for follow-up, because the mouse got on a glue trap and was squealing. I told my son to leave it; I thought it would die there and I wouldn't have to worry about picking up a squeaking, moving mouse. Eew! We went back later, though, and saw it had gotten loose. So I called One Stop to tell them, "It got away!!!" When he came back, he overturned mattresses , looked under the bed, removed things, and was pretty strong about trying to locate it. Obviously he couldn't tear up the whole house or the whole top floor but he was diligent about searching that room. Before he left, he laid a snap trap there. And sure enough, that's where my son and I ended up just discovering it … but not until 2 days later, instead of while the pest control guy was there. My brave son was the one who ultimately removed the mouse from the trap. I teased him, "Do you want to take a picture of it?" and he replied, "Nooo!" All we wanted was to get rid of it – quick, fast, and in a hurry.
I hope I don't have to deal with that again ever in my life although, truth be told, once you've had the experience, you'd be better equipped to handle it the next time. I mean, you just hope it doesn't happen, but I know what to look for. Quite frankly I would be less apt to call somebody. I'd just go and get a trap and put it down myself.
I definitely can't advise what to do if you have a major mouse infestation but on a small scale, the first thing would be to identify any areas on the outside of the house where they could enter; that is key. Secondly, at the first sign of droppings or of funny noises, put a snap trap down. Thirdly, if you do notice signs, don't give mice any reason to hang around; don't eat in your room. Don't leave anything that they could possibly be attracted to. Finally, keep in mind that they're not going to harm you; they won't be aggressive.
You don't want to be startled by a rodent (who wants that?) but you've just got to put things into perspective. It's just a mouse, a nasty little creature that's not going to attack you. Try to get ahead of the curve by identifying any possible openings on the outside and filling them with steel wool. Mice hate that so much. Also, I went and purchased a special rodent repellent device that you put in the wall. You can't hear it but it makes a noise within the walls they can't stand. So I've put those in rooms upstairs as well.
Now I just hope and pray I won't be as stressed out if there is a next time.