Keep your Trash Vermin-Proof
Vermin-proofing your trash helps vermin proof your neighborhood
Posted by Richard Schabb

|

Sep 02, 2009
---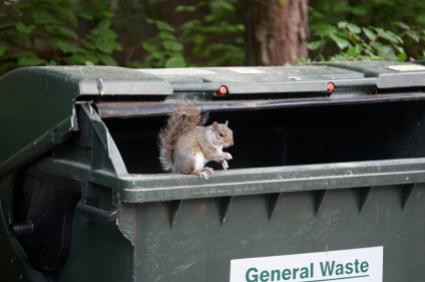 There are few surprises that are less welcome than opening up the trash and finding it full of bugs. If just the thought makes your skin crawl, you're not alone. There are some preventative steps you can take to decrease the possibility of providing rest and comfort for your enemies in the trashcan. You need neighborhood cooperation to keep your trash vermin free. Every so often, it's necessary to check on how your neighbors are doing with their waste management practices, because a trash-strewn back yard invites pests into the neighborhood, which can bring filth and disease. It has been found that roaches and rodents increase asthma in their proximity. Some urban neighborhoods, such as San Diego, have teamed up with the American Lung Association and other organizations, to host an annual trash clean-up day, to lessen the danger.
Your trash management strategy has to include ways to create an impenetrable separation between your trash and the vermin that are attracted to it. The way to keep them at bay in your backyard is to make sure your outside trash area is clean. Smelly trash in your outside cans will attract bugs and rodents to the outside of your house. Stray cats, dogs, squirrels, and birds help spread the dirt and chaos that attracts vermin. Once the outside area is infested, it's just a short hop to the inside of your house. Of course, it's necessary to use a garbage can with a tight, heavy-duty lid. Some of the best commonly available trashcans feature lids with integral clips that lock the top onto the can. Make sure that cracks and small holes around your foundation and ribbon board, which are the points of entry for bugs and rodents, are stopped up, and that doors and windows close tightly, and that your screens are in good repair.
The number-one tactic you can use against vermin venturing inside your house is to take the trash out regularly. If there's no food available they are going to look elsewhere. Vermin navigate by sense of smell, and your trash, after about two days at room temperature, broadcasts loud and clear: "calling all vermin!" You also have to keep your trashcan super clean. Use a trash can liner with a bottom "star" seal (in other words, the sides of the bag are gathered together and rolled before heat sealing), rather than a "gusset" (folded like the bottom of a paper bag) or flat bottom seal, because it will be stronger, fits your trashcan better, and is less likely to leak. When you remove the bag from your trashcan, look for and clean any liquid immediately, preferably with bleach or another safe cleaning agent, before it becomes liquid lunch for some bug. It's often helpful in case of an active infestation by crawling bugs like ants or roaches to put a tray under your trash can and fill it with water, which will stop any bug that can't swim, and that includes just about every common household pest.
---
Top Cities Covered by our Exterminators: