How to Insulate a Crawl Space
Adding insulation under the house can be tricky, but the energy savings are worth the effort.
Posted by Steve Graham

|

Nov 29, 2009
---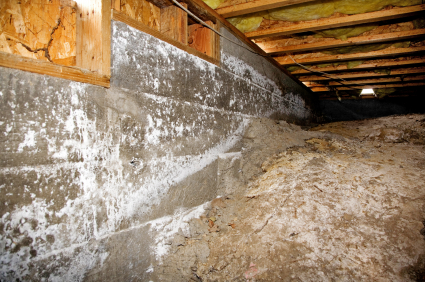 Insulating a dirt crawl space can save energy and keep the floors warmer in winter, but it is more complicated than blowing loose fill insulation into an attic or even stapling on insulation behind drywall. Before insulating under the house, you should block moisture, seal the floor and mitigate radon. Once the crawl space is prepared, you will need to carefully insulate the walls or subfloor.
Preparing the Crawl Space
Before starting with insulation, make sure to vent the radon lurking under your house. As noted in this article, radon can seep from the underlying soil into nearly any home. To keep this dangerous gas out of your home, install a radon ventilation pump underneath the house, then cover the dirt with a thick plastic barrier to seal off the crawl space and help mitigate moisture. The barrier should cover the entire floor and at least the first six inches of the wall, and all seams should overlap by one foot to prevent any gaps and leaks.
Moisture can rot the wood in your home, cause mold and health problems, and reduce the effectiveness of insulation work. To keep moisture out of the crawl space, slope all landscaping away from the house and extend gutter downspouts away from the foundation. With proper moisture control, you can then close any vents and maintain a sealed crawl space that will keep temperatures more regulated than an openly ventilated crawl space.
Insulate the Foundation Walls
The other advantage of a sealed crawl space is the ability to save money and materials by insulating the foundation walls instead of trying to attach insulation below every section of the subfloor. It takes far less insulation to cover a perimeter of 3-foot walls than to cover the entire floor. Wall insulation also will automatically keep the ducts and pipes from freezing or losing too much heat without extra effort.
Insulate both the masonry foundation wall and the joists with rigid foam board insulation, closed-cell foam spray or batts. In a dry climate with adequate moisture control, fiberglass batts will work. However, they might attract mold, and will become less effective if they get wet. To be safe in wetter climates, use solid foam alternatives.
You also need to insulate around your access opening to ensure an airtight, energy-efficient crawl space. Check for a solid termite shield between the wood band joist and the masonry wall. If there is no shield, leave a gap in the insulation to check for termite damage.
Insulate the Subfloor
Next, check for gaps under the house, such as around plumbing fixtures or wiring, and seal them with caulk or spray-foam insulation. Then, if you choose to maintain a ventilated crawl space, tightly affix batts with a vapor-retardant facing. Be sure not to leave any holes between batts or gaps above the batts and below the subfloor. Insulation hangers are thick wires that bend into place and hold the insulation batts. Add hangers every foot or so.
Insulating a crawl space takes a little bit of work, but the effort should pay off in comfort underfoot and lower energy bills.
---
Top Cities Covered by our Remodeling Contractors: