Fence Staining Tips
Jan 01, 2011
---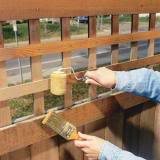 Every wood fence requires sanding and staining at one point during its lifetime. A wood fence adds a lot of curb appeal to a home, but it takes a lot of work on the part of the homeowner to keep the fence looking good. Wood products have many benefits, including their natural beauty and the uniqueness of each piece of wood. Staining provides the opportunity to make the wood even more distinctive, as there are many stain colors to choose from. Staining a wood fence is more popular than painting since the staining highlights the wood's natural color, grain and texture.
The following are some tips to help make your wood fence staining project successful.
1. Check the weather before you start your project to make sure that there is no rain in the forecast for at least 48 hours.
2. Decide if you will be brushing, rolling or using a spray gun. Using a spray gun is much quicker, but you will be able to get a cleaner and more even look from doing it by hand. There are some professional painters who use spray guns to stain fences. They clearlyhave experience in doing so, and hiring a painter to do it for you may be a good idea if you don't have a lot of time todevote to staining your fence.
3. Cover the area around the fence (including the bushes) with tarps or drop cloths, or even plywood.
4. Inspect the fence for any weak or rotten boards.
5. Power wash the fence with a pressure washer or a hose with a power nozzle. (Learn how to pressure wash a fence.) Keep a scrub brush and a solution of water and soap handy.
6. Weathered wood should be bleached prior to staining to kill any mold or mildew growth. Mix equal amounts of bleach and water and then scrub the fence.
7. After the fence is dry, apply a waterproof sealant.
8. Wear protective gear. Especially if you will be using a spray gun, you will need to wear a mask, protective goggles and even gloves.
9. Scrape and sand as necessary.
10. Test your stain color in a small area in the corner. If you like it and proceed, make sure you read the manufacturer's directions on the can for any specific instructions.
11. Apply the stain in the direction of the grain using short and even strokes; you may need to apply up to three coats.
12. The final step is to apply another sealant to protect the color.
---
Top Cities Covered by our Painters: