Decorative Molding: Wood & Crown
Jan 01, 2011
---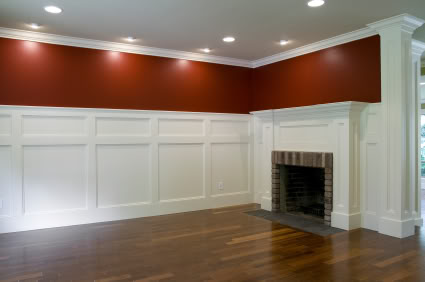 One of the most traditional and important design elements in the home is the application of decorative molding. With the exception of modern design, architectural and decorative molding designs have played an important role in the decorative arts. From very high-end homes with elaborate wall and crown molding details to more modest ranch homes with equally modest moldings, it is the application of decorative molding that highlights the architecture and brings structure to a space.
Decorative molding can be used from floor to ceiling, and while the end results can be as sumptuous as one can imagine, it is not necessarily expensive or difficult to install.
Starting at the floor, we have baseboard molding, which visually connects the floor to the wall and hides the seam between the two. Baseboard molding can be as small as a one-inch quarter round piece to a six-inch-tall board with decorative carvings. The wainscot, which is the spacegenerally below a chair rail, is often covered in decorative paneling, but it can be embellished with applied wood molding as well for a paneled look at a fraction of the cost. This involves applying small strips of decorative molding to create separate sections on thewall.
Further up the wall, one might install a chair rail. It is usually 3 feet off the ground, but a chair rail can be as high as five feet. The functional purpose of a chair rail is to protect the walls from chairs being pushed up against them. We generally see chair rails in dining rooms for this purpose. As with the wall space below the chair rail, one might see decorative molding applied to the wall above the chair rail as well. Similarly, faux wood panels can be created with applied molding to create boxes, or sections, in the wall. This adds character and formality to a plain wall.
At the top of the wall is crown molding, which, like baseboard, is a connecting point between the wall and another surface: in this case, the ceiling. It's usually the crown molding that gets the most attention in a space, and it can be a simple one-inch quarter-round piece or an ornate 18-inch construction of different styles, including dentil, egg and dart, and picture rail. Picture rail moldings are the most practical type of decorative molding. Their function is to hold a hook from which art and mirrors can be hung without having to hammer nails or brackets into the wall; this is particularly useful on plaster walls.
Decorative moldings are both functional and beautiful. When used in the proper scale and style for the home in question, wood molding adds structure and generally immediately increases the perceived value of a space as well.
Author Linda Merill is a professional interior designer and writer based in Massachusetts. Visit her decorating blog and her Web site. Linda is an amazing resource for interior design information. Go ahead and send her a message!
---
Top Cities Covered by our Carpenters: