Linda Merrill

|

Aug 05, 2010
Celebrity Nurseries
Glam up your nursery like a star.
Posted by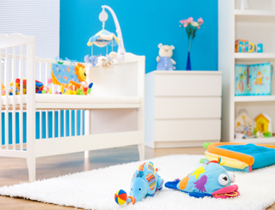 Celebrities have long been admired, reviled, copied and always talked about. They are the stock-in-trade of tabloids, magazines and the fashion pages. It's no wonder that designers and product manufacturers alike curry the favor of a celebrity client or two. What better way to gain publicity than to have an admired, or at least notorious, celebrity wearing or using their product? And, the more intimate, or human, the view into a celebrity's life, the better. There is little more human a time than when a celeb has a baby and welcomes fans and the media into their lives at this happiest of times. Regardless of who the celebrity, is it's truly a life moment that is shared with every other parent on the planet. And just like the rest of us, celebrities want to welcome their new arrivals into a beautiful baby nursery. Of course, the baby itself will never remember the room or its decor, it's really a space for the parents. But that's okay.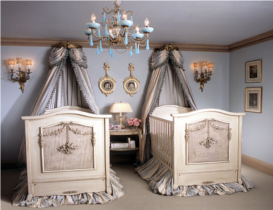 Gail Sedigh, founder and owner of Art for Kids (AFK) produces a line of exquisite furnishings and accessories for babies and children. Celebrity owners of AFK furnishings include Jennifer Lopez, Kimora Lee Simons, Monique Lhullier and Melania Trump among many others. When actress/singer Jennifer Lopez and her husband singer Marc Anthony welcomed their twins, Max and Emme, to their family in 2008, their multiple nurseries featured Art for Kids furnishings. Says Gail "Jennifer Lopez did one of her nurseries in all AFK and used our casegoods pieces in her New York nursery which received a lot of press and was featured in People Magazine. A lot of people come in and say 'Oh, didn't Jennifer Lopez use this?' It was all very classic and elegant".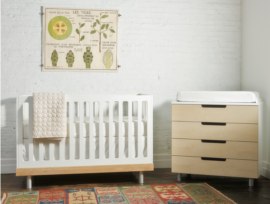 Young celebrity mothers often tend towards a more modern aesthetic as typified by Gwyneth Paltrow's nurseries for her kids which were done with a decidedly modern touch including David Netto cribs. Husband and wife celebrity interior designers Courtney and David Novogratz of Sixx Design not only have a thriving design practice and a recent hit show on Bravo TV, they are also the parents of seven children. Clearly, they know their way around a nursery. Their eclectic designs for both their own children and client projects regularly feature bold colors, modern art and contemporary furnishings such as cribs from eco-friendly Oeuf in New York. The standard pink and blue bunnies and bears of many a typical baby nursery aren't the only choices out there.
Where baby nurseries are really more for the parents, doesn't it make sense that the design style should "of a piece" with the rest of the home? Design author and Today Show correspondent Susanna Salk remarked on kid's room design "I can make it sophisticated and fabulous, just how I'd want my own room to look." Susannah's recent book "Room for Children" is filled with beautiful spaces that span the gamut from classic elegance to slick modern, and everything in-between. As Salk says "Take a risk and do something new. It's a child's room; you get to have fun with it. It should be liberating."
Design-wise, there is always a question of whether one should stick with a traditional look or go with a modern design and which will stand up to the test of time. Of course, baby nurseries are by their very nature transitional spaces, however, they can be the basis for all stages of the child's life and one needn't choose one style over the other. "One thing I'm going to be doing," says Gail Sedigh, "which I think will be very well received is taking my classic furniture and showing it in a more modern setting. I think it's just good design in general-classic with a little bit of a modern twist."
Celebrity parents often have multiple homes to furnish and while this is hardly a burden, it can provide some interesting design issues. For example, does it make sense to create identical rooms for the babies in each home, so as to create a comforting sense of continuity? Or, do the different homes provide canvases for differing design expression and opportunity for the baby to develop a flexible nature. I asked Gail Sedigh if she knew what different celebrities did in these cases. Jennifer Lopez and family have homes in New York and California and did not create identical nurseries, although the design style is similar and there were many Art for Kids pieces used in both. Similarly, Melania Trump used AFK's "Madison" crib in more than one home for her baby. On the other hand, Christina Onassis famously did created identical baby nurseries in all of her homes for her daughter Athina.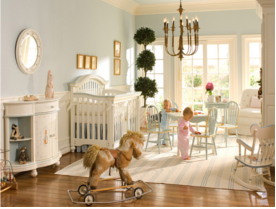 Even movie set decoration can rise to the level of celebrity status. The 1995 movie "Father of the Bride 2" featured a baby nursery that has surely influenced many a parent and designer. Set decorator Ric McElvin created a fantasy space replete with the perfectly outfitted crib, rocking horse and tea set. Even Gail Sedigh admits that this nursery possibly had a strong sub-conscious influence on her Twins Playroom collection on her website.
As Susanna Salk says "It's a child's room, you get to have fun with it."