6 Cheap Ways to Cover Windows
A designer talks window treatments for skinny budgets.
Posted by Linda Merrill

|

Oct 10, 2010
---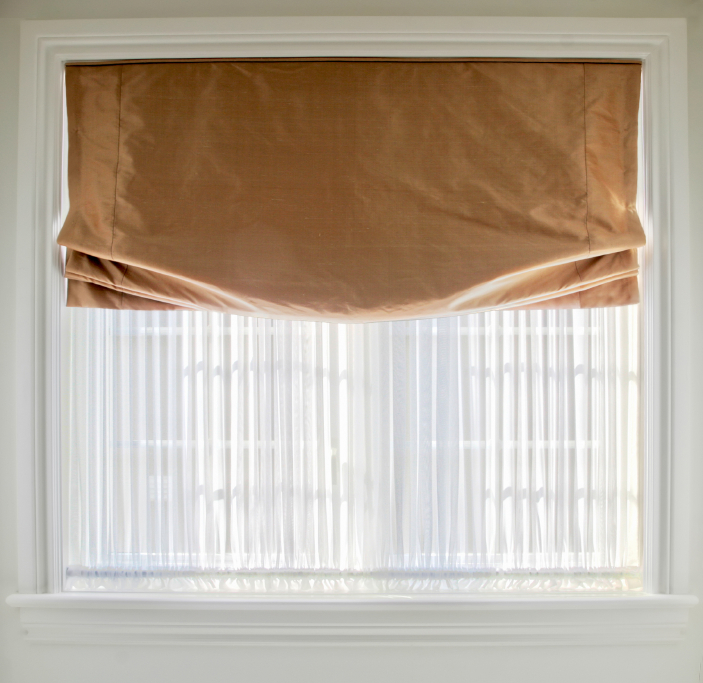 There's no doubt about it, window coverings can be very expensive and yet they also provide a high level of function for privacy, light and heat control. Depending on the location of the window, a covering of some kind may be an imperative. However, if you're on a tight budget or have lots of windows to cover, it can be a daunting task. Here are six great ways to cover your windows that are cheap and effective.
Paper accordion-pleat window shades start at under $10 per shade, are easy to install and make a great quick covering that is easily replaceable. The shades come in many colors to coordinate with your décor and different paper thicknesses offer everything from light filtering to full-on room darkening levels of light control.
Sheer fabric panels come in many different fabrics from voile to cotton to linen. Simple sheers to lace designs are available and work well for those looking for a more formal look while staying on budget. Sheers offer great light filtering properties as well as some privacy. If you are looking for an opaque fabric, one of the easiest DIY window panels around is a twin size sheet hung on a rod. Sheets have great patterns and usually come with a hemmed header that can be converted easily to a rod pocket. Or, simply fold and run a quick stitch, or bead of glue, across the top to create the rod pocket.
Matchstick bamboo shades are a great way to add a simple, tailored look to your windows without breaking the bank. Bamboo comes in many natural shades and allows a gentle filtered light through plus a high level of privacy during both day and night. They are usually very easy to hang – often off of a simple pair of nails in the window frame.
Fabric tie up shades are pretty and colorful, usually washable and easy to hang. A simple pocket along the top makes for an easy rod mount and the bottom can be pulled up to the desired height by ties. These shades are not fully operable in that there is no pulley-system for easy up and down movement, but for the price (usually under $18 each), they are a cute way to dress up a window without breaking the bank.
For those who don't care for standard window coverings but who may need a certain level of privacy, window film or translucent contact paper is a great option. Window films are readily available in home improvement stores and come in decorative "stained glass" looks or simpler "etched glass" styles. Easy to install and remove, this option works well in bathroom or basement level windows.
Don't forget about used window treatments. Often times, a homeowner who is redecorating will be replacing older window treatments that may still be in good condition. If they were decent quality to begin with, perhaps custom, they may try to sell them or give them away. Check out local thrift stores, Salvation Army stores, flea markets or even Craigslist for some potential great deals on "hand-me down" window coverings. They may not always fit perfectly, but for rock bottom prices, you might find the perfect solution.
When dealing with how to cover one window or a whole house of windows on a budget, you don't have to sacrifice style or functionality with a little creativity and thrifty shopping.
---
Top Cities Covered by our Remodeling Contractors: