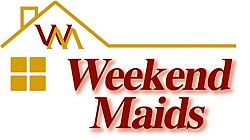 Weekend Maids
Weekend Maids

Main Services:

Professional Referral Agency for House Cleaning, Carpet Cleaning, Window Cleaning, Power Washing

In Business Since:

1995

Company Overview:

Weekend Maids is a dedicated housecleaning referral agency that has provided quality house cleaning services for over 14 years. We have provided top quality, affordable, and timely service for home owners, tenants, home buyers & sellers, realtors, property managers, apartment managers, churches, film production companies, restoration companies, builders, contractors, etc. With a creed of \"customer satisfaction\", we continue to be a top agency in Greater San Diego, Orange County, the San Francisco Bay Area, and South Riverside County. We can also be reached at (760) 730-0100. Call us today to find out how we can help you!
Reviews By Customers
Review by: Kitty Martin from El Cajon CA
Work Description: General housecleaning
Comments: Very thorough and did a good job.
Review by: ROLLY RAMOS from Spring Valley CA
Work Description: CLEANED 2 BEDROOM APARTMENT.
Comments: MY WIFE WAS THERE AND SHE WAS SATISFIED WITH ALL THE WORK THEY DID.
Review by: Mariana Barnard from Escondido CA
Weekend Maids Replied:
Thank you!