`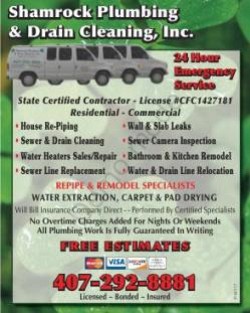 Prescreened by Networx
Shamrock Plumbing and Drain Cleaning Inc

License:

CFC1427181

Main Services:

Full Plumbing Service

Years In Business:

2003

Company Overview:

At Shamrock Plumbing we offer all the expertise that comes with 20 years of plumbing experience. We specialize in residential and commercial re-piping and remodeling. We offer a 25 year guarantee on all our re-piping work. We also do kitchen and bathroom remodeling, water heater sales, service and instalation, faucet repairs and repalcement, drain cleaning and video camera to check for any and all problems in the sewer line needing repair, drainfield replacement, unblocking toilets and lav sinks. Being a proud member of the Better Business Bureau we pride ourself in the highest quility of service to our customers. Don't forget to mention Plumbing Networks for a $250 discount on any new water heater purchased with a re-piping project, or $125 off the re-piping itself.
Reviews By Customers
Review by: Ana Berrios-Gonzalez
Work Description: Removal of tub and installation of whirlpool tub and plumbing. Professional staff and reasonably priced.
Review by: Maddox Roy from Orlando FL
Work Description: Leak under foundation of house.
Comments: Shamrock was punctual in coming to fix the leak. They gave me all my options to make a sound decision. No pressure. I chose to repiped my house and for what I deemed a very fair price. They forgot to connect one of the water outlets during the repipe. When I called and made them aware they were punctual as promised and fixed the outlet. Would I use them again or recommend them others yes.
Review by: Gordon Burr from Kissimmee FL
Work Description: Refurbish 2 showers & three wash hands basins.
Comments: I am used to the lead contractor procuring all materials required for the job. We had to buy tiles & glass to complete job
Review by: yalina salazar from Groveland FL
Work Description: Very good job
Comments: He is the best
Review by: Adrianne Murphy from Orlando FL
Work Description: Bathroom - remove old tub, toilet and vanity. Re-do bathroom plumbing and and put new tub in.
Comments: I would recommend Shamrock Plumbing and Drain Cleaning Inc. to anyone looking for plumbing service. I was very pleased.
Review by: G@D Electrical LLC
Work Description: WE HAD A LEAK IN OUR MAIN WATER LINE CAME OUT ON JULY 2 AND FIXED IT ASAP
Comments: DID A HELL OF A JOB FAIR AND NICE WILL USE HIM AGAIN. WILL USE HIM ON ALL OUR JOBS FOR NOW ON THANKS MARK.
Review by: Harvey Roth from Lake Mary FL