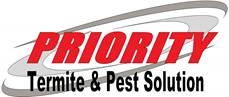 Prescreened by Networx
PRIORITY TERMITE AND PEST SOLUTIONS

License:

JB168467

Main Services:

Pest Control, Termite Control, Widlife and Critter Control, Pressure Washing, Bee/Wasp Control, Fire Ant Control, Rodent Exclusion

Years In Business:

6

Company Overview:

We started our company to make a difference in the pest control industry. We have over 15 years of experience in pest management and over 25 years in customer service. We use only the latest chemicals, which means they are the most effective and safe for you and your family. With Priority, you will get quality work at a very competitive price. We will never cut corners, as some companies choose to do. Our promise to you is quality work, on-time service, and the quickest turn around time, all while keeping it affordable. We don't just want to gain new customers, we want to build lasting relationships.
Reviews By Customers
Review by: B. T.
Work Description: Dry wood termites.
Comments: Dave and his son came out on time and did what they said they would do. Very professional and punctual.
Review by: T. D.
Work Description: termite inspection and insect report
Comments: very good job, friendly and informative
Review by: D. J.
Work Description: Perform a Termite inspection
Comments: David was punctual, professional, and courteous. He explained the process and what to expect as an outcome. I would definitely hire Priority Termite and Pest Solutions again..
Review by: R. E.
Work Description: Treated townhome for both drywood and subterranean termite damage.
Comments: Recommend PRIORITY TERMITE AND PEST SOLUTIONS to other home dwellers. The service was excellent and the price was better than competitors.
Review by: C. M.
Work Description: needed help to prevent a cockroach infestation, house was infested prior to owning and another company kept telling me it was my fault they were coming back
Comments: this is the BEST pest service i have ever used!! great and affordable, i would recommend to anyone!!! they got rid of roaches that another company told me were my fault, even cleaned the inside of my switchplates and outlets, which i never thought to do!!! haven't seen any since they were here!!!
Review by: L. H.
Work Description: treatment for german roaches
Comments: They just completed their first treatment on my house. Two tech's were sent to my house. Both were very professional and courteous while treat the house and explaining everything they were doing. Our appoint was for 4 pm. They called us at 1230 pm asking if they could come earlier. They arrived at 130pm. Highly recommend them to all...
Review by: M. . B.
Comments: they were very professional. prompt + very detailed about my problem (ants). i will definately recommend them to anyone that needs these services. the prices are EXTREMELY reasonable, half the price of orkin.....
Review by: J. S.
Review by: I. . O.
Review by: A.
Work Description: We have had some ant activity and and they have also done some preventative work for us.
Comments: They are knowledgeable and thorough. The safety of my children and the entire family is important to me and they showed up early to explain the work that they would be doing. They are an excellent company.
Review by: R. H.
Work Description: pest control and had sub termites