`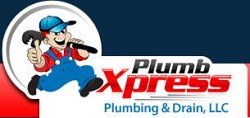 Prescreened by Networx
Plumb Xpress Plumbing & Drain

License:

MP207967

Years In Business:

2003

Company Overview:

Plumb Xpress Plumbing and Drain is the Atlanta plumber company that's ready to respond rapidly for any plumbing repair you need, from a drain cleaning at a home in Alpharetta to sewer repair at an apartment complex in Kennesaw. Wherever you are, our highly trained technicians will always arrive quickly with a well-stocked van and ready to handle whatever plumbing problems you have.
Unlike many other Atlanta plumber companies, Plumb Xpress Plumbing and Drain never gives you a wide appointment window that eats up your day. Our strategically located network of technicians will be at your door in 90 minutes or less and almost always have the job done the same day. Even major projects like a water or sewer line repair can be completed in as little as 3 days.
Every Atlanta Plumber at Plumb Xpress Plumbing and Drain is licensed by the state for general plumbing, has a state approved backflow prevention certification, and state approved septic system certification. We also give each of our plumbers a competency test, thorough background check and drug screening before we hire them, so you can trust every Plumb Xpress Plumbing and Drain plumber in your Atlanta area home.

Website:

http://www.onefastplumber.com
Reviews By Customers
Review by: David D. O'Donnell from Cumming GA
Work Description: showed up on time. Saw right away what the problem was and fixed it.
Comments: spent two days with another plumber who never showed up. Plumb Xpress the only one to use. Asked about another issue they looked at it and said it was ok they could have stuck me with more work but did not
Review by: Kenneth Mitchell from Villa Rica GA
Work Description: clear obstruction in toilet drain pipe
Comments: Arrived on time, worked quickly, charged less than quote because job went smoother than anticipated.
Review by: Adam Shebroe from Auburn GA
Work Description: Replace line from meter to house.
Comments: Todd did a great job diagnosing the problem, fixing the leak, replacing the concrete and cleaning up afterwards. Very friendly and professional. Would use again.
Review by: Fred Fletcher from Flowery Branch GA
Work Description: replace line from meter to house
Comments: We had an issue where my water bill went throught the roff about two months ago for no real apparent reason. Nosign of a leak anywhere for a couple of months then i discovered water running out of the foundation drain for no reason. A leak of teh feed under my driveway! Called these folks and Tommy showed up. He identified the problem, gave a fair estimate and tehn scheduled the work. We were delayed a couple of days becuase of all teh real cold weather (near zero as Tommy was out on broken pipe calls.) Work has not been completed and done very well! Thye avoided tearing up teh driveway by rerouting the feed. They saved me money! I am very happy with the service and with Tommy – the face of Plumb Xpress that I met! Thanks Fred
Review by: karen owens from Kennesaw GA
Work Description: Replaced pipe attached the water meter.
Comments: I had the pleasure of having the owner Donnie complete my work. He explained the process and did not mind me watching over his shoulder. I am very pleased!
Review by: Harold James McAlister from Stone Mountain GA
Work Description: Repair/replace two faucets.
Comments: I was very impressed by the free estimate. When Tommy arrived and called to tell me he could replace the faucets for a small amount more than just repairing them, I said ok. Thanks Tommy.
Review by: Katie Kremer from Kennesaw GA
Work Description: We just rented a house and need an additional gas line in the laundry room for our dryer.
Comments: I spoke with them on Tuesday morning & they came out that afternoon to give us an estimate. They were even willing to do the work at that time too! Since we are renting we had to obtain a copy of their license and insurance for our property management group and they were awesome about this as well. The owner was so nice and personally worked to get me a faxed copy of the insurance so we did not have to push the work out much longer than it had already been done. While dealing with the paperwork side of things, Adam was helpful in the fact that he kept the apptointment with us even though we were not able to confirm that we had everything until a couple hours ahead of time. He and another gentleman came out and the work was done in no time and done right! I will definitely use them again and recommend them to anyone.
Review by: Glenda Gordon
Work Description: Diagnosed, dugout, and replaced main sewer line
Comments: I was looking for a local company to do this job, and came across Plumb Xpress with great ratings and went with them. When I called they had someone in the area who could come out immediately, but I wasn't ready, so they came after work hours to assist. Jeff, the technician gave me a quote and said to call him as soon as I was ready, they could start the main job the next day. They had to dig by hand to get to my main sewer line, but they replaced it, did a great job, and left the area looking nice. My insurance company was willing to reimburse, and Jeff and Kristen in the office worked with me on multiple occasions to make sure the insurance company had what they needed to get the biggest maximum reimbursement. Cannot recommend this company highly enough!
Review by: Deborah Strickland from Oxford GA
Work Description: replace all the drains in my home. plumbed in a new kitchen and moved gas line.
Comments: Adam the service tech called me within 5 minutes of my request. set an appointment and estimated the job. I had a couple of estimates and his was right in line with those. I chose to use Plumb Xpress, Adam arrived right on time and worked hard. He got my job done and I was very satisfied....I was also surprised that he hauled off all the old pipes. Adam and his helper were very considerate of me and my home......I would recommend Plumb Xpress to everyone.
Review by: Clare O'Malley from Douglasville GA
Work Description: Replaced a broken pressure valve, stopped all teh leaks in the house, replaced washer, a shower head, and a bunch of other things that I don't know how to describe. Suffice it to say he was here for a while, but accomplished many things.
Comments: explained everything that was going to transpire and then walked my husband through all the repairs to show what work had been done. I will definately recommend this company and use them again when I have another issue
Review by: Phillip Espinosa
Work Description: Plumb Xpress came out to replace the water line from the meter to the house. Out of the three estimates I recieved Plumb Xpress provided me with the best warranty and rate for replacing the water line. Andy was a knowledgeable technician who was polite and clean during the entire process. I am happy with the work Plumb Xpress has done for me and intend on using them for any work in the future. I recommend anyone having a plumbing issues to hire Plumb Xpress for all there plumbing needs.
Review by: Sharon Lofstad from Peachtree City GA
Work Description: Very professional and polite!!!
Comments: Will definitely use in the future and will recommend to friends and relatives.
Review by: Annette Andersen from Lawrenceville GA
Work Description: cleared a blocked line
Comments: was 30 minutes late however did call to let me know.
Review by: Andrew
Work Description: Plumb Xpress came out and replaced the main water line from the meter to the house. Their price was fair, they completed the job in 5 hours, and they cleaned up after they were done. If your looking for a plumber I highly recommend Plumb Xpress.
Review by: Melissa
Work Description: Replaced Sewer Line
Comments: Thanks Plumb Xpress, your guys were great. I spoke to the owner about my problem with my sewer line. They sent Andy to to do a video inspection and did find roots in my pipes. I got 5 estimates and decided I wanted to go with Plumb Xpress had the best price and warranty and the owner was very involved from start to finish.
Review by: Lee Jones from Fayetteville GA
Work Description: I had a water line repaired in my front yard.
Comments: I could clearly see where the repair was needed, when the plumber came he went on to to say that the leak could be coming from a number of other places, which made no sense to me. He gave a price of 325 to 327. I asked if it only took him an hour or less would the price change he said he would reduce it to 300 then went on to tell me how they price their service less than the larger companies in effort to be more competitive. Because i didn't know how long the leak had been going i did have the work done but the thing that concerned me, was that he went directly to the sport where the leak was which was where the ground was saturated, This was after he went into this long story of all these other places that the leak could be coming from. He began the repair. It took him 1 hour and he charged me 300.00. I was satisfied with the work but I wasn't satisfied with the price .
Review by: Tracey Bryant from Norcross GA
Work Description: They came and ran a camera through the lines to see where the blockage was..
Comments: Very friendly technician and he did a very good job. Thanks