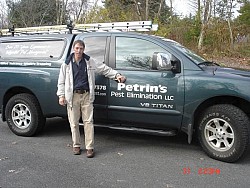 Petrin's Pest Elimination LLC
Petrin's Pest Elimination LLC

License:

S-3068 MA#36847

Main Services:

Residential and Commercial Pest Control

Years In Business:

27

Company Overview:

Petrin's Pest Elimination LLC, has incorporated professionalism, along with a strong understanding of your needs to live and work in a safe and healthy home or business. Our goal is to provide service levels that are hard to receive from some of the larger companies wanting to sell you an initial service, followed with a monthly service fee. Because no two jobs are the same, every treatment is tailored to your needs. Please call us today for a professional pest control experience that works.
Reviews By Customers
Review by: R. C.
Work Description: Bed bug elimination large 8 unit multi-family dwelling.
Comments: Mike Petrin is absolutely the best in his profession!!! I have been maintaining large commercial & residential buildings for more than 30 years, and I can honestly say I believe that Mike is the best in his field. Very knowledgeable, dependable & honest!!!
Review by: T. P.
Work Description: carpentar ant removal
Comments: Contractor was excellent!
Review by: L. B.
Work Description: Carpenter ant problem.
Comments: Upon contacting PPE , michael, the owner explained into detail, the whats, whys and therefores of takeing care of the problem. He arrived on time (Sunday) and again explained the procedure that he was going to perform. He verified the price and he proceeded to treat the ant situation. He was very friendly, professional, prompt and all around nice guy. I would not hesitate to call him again for any pest situation that might arise and would not hesitate to recommend him to anyone.
Review by: L. B.
Work Description: A problem with mice requiring bait placements throught the basement, attic, and perimeter of the house,
Comments: Mr. Petrin was courteous, prompt, and very knowledgeable. We won't know for another few weeks if the problem is solved, but we are initially very pleased.
Review by: J. N.
Work Description: he exterminated the roaches that were at our new house when we moved in
Comments: he was very knowledge and pleasant and excellent priced
Review by: R.
Work Description: I had problems with mice and ants and he took care of them.
Comments: He is excellent, right here when needed, followed up the next day and then a couple of weeks later also to make sure everything was OK. Later on I saw some ants and he was right here to spray with no extra charge at all.
Review by: C. G.
Work Description: Ant infestation elimination
Comments: Mike was honest, professional, knowledgeable and guided me in the right direction without overselling me on services we did not need. I highly recommend his services. he was flexible in scheduling and waranteed the work for a year as it is winter and he cannot properly do work outside until the weather clears. any return visits that may be required are already covered.