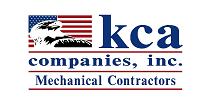 Prescreened by Networx
KCA Companies Inc.

Main Services:

Heating, Air Conditioning Installations and Service

Years In Business:

30

Awards:

BBB Gold Star Members

Company Overview:

We are the Mechanical Contractor that is Specialized in Residential, Commercial and Industrial Heating and Air Conditioning Solutions. Servicing the Entire Denver Metro and Surrounding Areas for 30+ years. We are committed to your Complete Satisfaction with your Indoor Air Comfort. "Your Comfort is Our Pleasure"
KCA Companies offers Free proposals on New and Replacement Furnaces, Air Conditioners,Whole House Humidifiers, Electronic Air Cleaners, Thermostats, Tankless Water Heaters and More. We offer Servce all Makes and Models and we also provide Mainenance on Residential and Commercial Heating and Air Conditioning Equipment.. Call 303-288-0119

Website:

http://www.kcahvac.com
Reviews By Customers
Review by: K. S.
Work Description: New furnace, ac, and tankless water heater
Comments: Just finished will update review in 4-6 months
Review by: C. &. W. B.
Work Description: AC Repair
Comments: Dear KCA, I just wanted to take a moment to thank you for your services. My husband discovered you via your website, He thought your site was direct, concise, and simple - being that my husband is in IT. he loves that! When our AC broke down in the middle of August I figured it would be days before you would be able to fit us in, I couldn't believe it when you were there within hours. We will always call you with our AC needs. We think you are great and of course you have our word of mouth advertising. Thank You! Chris & Wendy Blair
Review by: C. S.
Work Description: fixed AC unit and did a tune up
Comments: Quick, quick, quick... I received a call from this company within 10 minutes of submitting my request. They had someone at my house within a couple of hours. AC is now working GREAT!
Review by: J.
Work Description: Furnace and Electronic Air Cleaner
Comments: Thanks, to KCA we have a new High Efficiency furnace and an electronic air cleaner. GREAT NEW System for our home. Ron and his Staff were very professional from our first meeting with Ron who answered all of our questions and then to the install and the cleanup. Prompt, professional and the price was very reasonable. We highly recommend KCA.
Review by: L. B.
Work Description: Air Conditioning Install
Comments: After many meetings with various heating and air conditioning companies, we choose kca companies and Ron Davis for our air conditioning install. Ron was very informative and his crew prompt and professional. And the price was right. We will be needing a furnace for our rental soon and we will skip all the quotes from other companies and go with kca.
Review by: D. .
Work Description: Installed a new Air conditioner, Furnace and Humidifier
Comments: KCA is awesome I had them install a new air conditioner for my son and loved the work they did so much that I hired them to do work on my furnace and humidifier. The response time was very fast and the staff was very pleasant. Everything from the initial call to the clean up was fantastic I couldn't ask for a better company to do the work.