`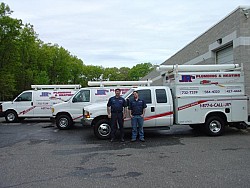 JRs Plumbing and Heating
JRs Plumbing and Heating

Main Services:

Plumbing Heating & Air Conditioning

Years In Business:

1980

Company Overview:

A family owned and operated business to satisfy all of suffolk county. Proper, clean, and affordable are our main goals to accomodate our loyal and new customers in a tough economy. 24/7 emergency service with low emergency rates and the highest quality service guaranteed!!!
Reviews By Customers
Review by: Dan Timmerman from Greenlawn NY
Work Description: Removed in-line pressure reducer and replace water shut off valve
Comments: A little late but he called to explain. Professionally done and cleaned up afterward. Thought price was fair.
Review by: Crawford Lenny from Smithtown NY
Work Description: Replaced shower faucets
Comments: I would definitely recommend their services to friends and family.
Review by: Lester Lee from Patchogue NY
Work Description: Replaced main turn off
Comments: Knew what they were doing. Job done well would tell a friend
Review by: George Costidis from Kings Park NY
Work Description: Replaced two boiler valves with watts single lever valve and replaced two rubber hoses with metal.Gave us a one year warranty for labor and parts.
Review by: Joyce Silverstein
Work Description: Replaced leaking stem and handle in shower in shower.
Comments: Came punctually and completed the job quickly and efficiently. Good job Frank!
Review by: Dolores Gordon from Farmingville NY
Work Description: toilet had a slow flosh ad it was ot going down he chanrge the flusher inside the bowl ow the toilet still does not flush but it now full up to the rim and its does ot go down .
Comments: it of all i paid125 for him to just change the cap on the flush i the bowl ad to justified him self he clai the it will cause 150 dolars but he gave me a brake i dot see how because my toilet is still ot working
Review by: Mary Lou Tiletnick from Centereach NY
Comments: he told me to order handle just in case there was problem and to call him when I receive them. He gave me a price that was reasonable. I felt he was honest in telling me what may occur with the handles. He will be put in my phone book in case a friend needs a plumber.
Review by: DZ from East Setauket
Work Description: Fixed leaking shower/tub
Comments: Very honest and reliable! Came on time as promised...was very professional and even beat my lowest price too :) I highly recommend him and will be calling him again!!
Review by: MICHELE KOERNER from Smithtown NY
Work Description: Replaced heater
Comments: Worked in snow storm on a holiday and stayed until job was done and we had heat again. They were neat,clean and polite. Highly recommend this company.
Review by: Carl Faber
Work Description: He does all my plumbing.
Comments: I am absolutely satisfied with him.
Review by: Alan Lukas from Manorville NY