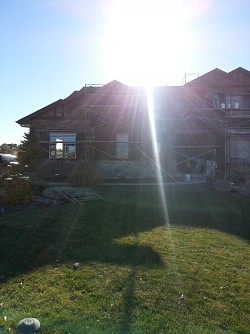 JJ's Mobile Carpentry Service Inc.
Commerce City, CO
Overview
Reviews

(5)

Photos

(25)
Main Services:
All Phases of Remodeling
With over 9 1/2 years in business JJ's Mobile Carpentry provides professional remodeling and home services for a variety of projects. As a small locally owned company, we provide superior customer service on all projects whether small or large.

If an area in your home needs a minor face-lift or a complete remodel, please contact us for a free consultation. Our consultation considers your ideas and costs to determine the highest quality solution that best meets your needs, and we will provide you with a complete and honest estimate.

Why Use JJ's Mobile Carpentry- Your home is one of your most valuable assets. Let us help you maintain and increase your home's value. Our quality and professional work carries a one-year workmanship guarantee - this is quality you can trust and depend on. We have been in the housing rehabilitation and remodeling industry for over 9 years and work on many projects that are funded by HUD. We are licensed and insured. We are MBE, DBE and SBE certified through the City and County of Denver. We are also a Section 3 Business concern and are confident you will be satisfied with our work and professionalism.

If you would like to renovate or just remodel a room or two, please give us a call and we will be happy to meet with you. A kitchen, bath, or basement remodel will increase the value of your home and transform it into a beautiful and efficient living space that you will enjoy for years to come.

Wendelyn Walberg Centennial CO
Work Description: Remodel upstairs bedrooms and bath.
Comments: James and his crew did great work! It took a little longer than they originally estimated, but partly because it was difficult for me to get my selections made in a timely manner and partly because it happened over the holidays. They kept me posted on progress, kept my house as clean as could be expected with the work they were doing and handled my change requests graciously. I would hire them again in a moment.
Sandra Broomfield CO
Work Description: Kitchen remodel
Comments: The remodel of the kitchen was a very big process. James made the process easier with all his connections and expertise. He kept us apprised of all situations and all our options. The kitchen turned out great! We will definently be calling him for other jobs!
Carol Littleton CO
Work Description: Remodeling of kitchen and install crown molding in living room
Comments: I really liked the care that the team took to respect the rest of my house while they were working. James did a great job of trying to keep me informed of their schedule and changes as we went along.
Jennifer Fair Centennial CO
Work Description: Bathroom Remodel
Comments: James and his crew were absolutely fabulous to work with - professional, courteous, sociable - couldn't have asked for a better group of guys! We especially appreciated the fact that they cleaned the work area every single day! My only suggestion would be that the team establish SET start/stop times for the work day(s).
Jim Rakke
Work Description: He has done lots of repairs for us.
Comments: James has worked with our program for about eight years. He is very skilled with general and advanced repairs. We have never had any problems or complaints with his work.