`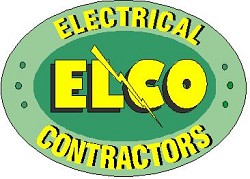 ELCO ELECTRICAL CONTRACTORS, INC
ELCO ELECTRICAL CONTRACTORS, INC

License:

K11 #199139

Main Services:

Residential & Commercial *Electrical service * repair and upgrade. *Trouble shooting. *New Construction *Remodel * Tenant Improvements.

Years In Business:

2004

Company Overview:

ELCO is a Mesa, Arizona based electrical contracting firm experienced in both residential and commercial electrical design and installation. We have serviced the electrical needs of the Phoenix area as well as the adjacent communities. We understand that in today's ever competitive market place, time and money are commodities not to be wasted, with this in mind we strive to implement a long-term relationship with all clients, attempting to create a successful partnership with them throughout the construction process, based on safety, quality, timely service and attention to detail. We offer a prompt competitively priced service. NO JOB TO SMALL OR LARGE.
Reviews By Customers
Review by: dan saddoris from Mesa AZ
Work Description: Wired several ceiling fixtures
Comments: Great to work with. Always on time and excellent work. I would highly recommend. To anyone needing electrical work.
Review by: Jeff Robitaille from Gilbert AZ
Work Description: He fixed my problem over the phone for free.
Comments: I'll definitely call ELCO ELECTRICAL CONTRACTORS for any future needs.
Review by: Arthur
Work Description: Troubleshooting electrical short. Three of my wall receptacles and hall light and outside lights were not working. Michael arrived early and was able to find the problem and fix it.
Comments: Excellent service I will be using them again.
Review by: James Carmichael from Scottsdale AZ
Work Description: Miscellaneous Electric
Comments: Very pleased. Professional, careful and knowledgeable. Will call him in future for work at my office and home
Review by: Clara Trevizo from Tempe AZ
Work Description: Trouble shoot kitchen light fixture/switch.
Comments: I sent an email on a Sunday afternon, Michael Samuel called within (if that) 4 minutes. Michael asked what the issue was and asked if I wanted him to come out today or tomorrow. He said he could be at my house in 45 min., but arrived in 35 minutes. He assessed the situation and made sure there was no fire hazard. Michael came out the next morning and finished what he had to do since it required crawling into the attic. Michael's price was fair, he was very courteous and professional. I would recommend him with no reservations.
Review by: Tony Russell from Queen Creek AZ
Work Description: Wired a Pool Heat Pump as well as a Hot Tub Spa
Comments: He phoned minutes after I sent the email and was very prompt with estimate. Was the lowest of 3 estimates. Prompt installation after decision. All wiring is exterior and visible and was completed in a Very neat, professional manner. Had a few people comment already on the neatness of the work. Looking at using him again for my next project.
Review by: Surendra Singh from Gilbert AZ
Work Description: Michael Samuel was here for troubleshooting smoke detector and he did superb job. He arrived on time and took time to study the problem successfully. Kudos to him.
Comments: Michael Samuel did an excellent job and I highly recommend him for any professional job.
Review by: Audrey Lefkowitz from Fountain Hills AZ
Work Description: installed outside lites
Comments: very satisfied
Review by: Rebecca Davies from Chandler AZ
Work Description: Michael did very quality work...would highly recommend!
Review by: Ben Rucka from Gilbert AZ
Work Description: Installed 2 new light fixtures.
Comments: Worked efficiently and did a great job!
Review by: M D
Work Description: Checked electrical panel \ circuit breakers
Comments: Michael @ ELCO was very promt in answering our call. He was very knowledgable and very helpful. I would definitely recommend ELCO ELECTRICAL CCO AND I WILL CALL FOR ALL FUTURE NEEDS. THANK YOU MICHAEL FOR YOUR HELP
Review by: Keith Page from Maricopa AZ
Work Description: Installed an exterior coach light and wired to a new light switch, installed in garage.
Comments: The electrician was very friendly, knowledgable and was prompt. All work was done exactly as described and was done per the estimate. I was very surprised by the low price that was quoted. Overall, I would highly recommend and would definately call for all future electrical needs.
Review by: Sheila B. Penrod
Work Description: Replacement of defective lighting fixture in kitchen
Comments: Michael was courteous, right on time, finished the job quickly. I contacted ELCO by email at 10:30 pm and got a call from Mike at 10:33!!! He came the NEXT day and got the job done. Awesome!!
Review by: Reynaldo Caraballo
Work Description: 5 light fixtures and 1 ceiling fan installed on a ceiling that is 18 feet high.
Comments: I must commend Michael, the installer from ELCO Electric, who did a fantanstic job on all the light fixtures and the ceiling fan. I requested an electrical install on an 18 - 1/2 feet ceiling consisting of 5 light fixutres (4 pendents and 1 chanderlier - all with chain links) and a ceiling fan. The install also consisted of putting in a 12 inch medallion on each of the fixtures and installing 4 electrical boxes on the 4 pendant lights. I present these details just to illustrate the magnitude of the work involved. I had a great experience with the install, from the time I logged on to your network with 4 immediate responses for quotes to the time Michael arrived prompty at my home and diligently worked the job to completion in a timely manner. Michael provided punctual, courteous, affordable, quality service and is very professional. I would highly reccommend Michael to any family member, friends, or co-workers. Great job Michael, I'm real happy with the hallway! You are an outstanding asset to your company.
Review by: Ken Zwilling from Phoenix AZ
Work Description: Located and repaired kitchen circuit problem.
Comments: Excellent service!
Review by: Dave OShea from Gilbert AZ
Work Description: Installed a light fixture and replaced a light switch.
Comments: Electrician was on time, and seemed knowledgeable. Left a contact number in case I had any issues. Would reccomend ELCO without any issues.
Review by: Howard Lewis from Maricopa AZ
Work Description: Installation of Attic Fan
Review by: Robert Fulton 
Work Description: They have done lots of electrical work for me.
Comments: Elco Electrical have done quite a bit of work for me. I am happy with them.