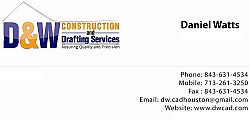 D & W Construction & Drafting Services
D & W Construction & Drafting Services

Main Services:

Wood Repair, Specialty services and Products, Interior/Exterior Trims and Finishes, Remodeling Kitchens and Bathrooms, Room Additions Decks... PICK ON PHOTO FOR VISUAL DETAIL.

In Business Since:

2002

Company Overview:

D & W Construction & Drafting Services (713)261-3250 has over 21 years of experience and handles all jobs with the same care. We are a family owned and operated company. We pay attention to the small things. Your satisfaction is guaranteed. We provide a variety of services and can take care of all of your needs. Give us a call today for a quick response.

All jobs, large or small.
I really appreciate the small jobs as well as the larger jobs.
I do not believe in pricing anything at a rate less than fair, nither will I charge more than a job is worth, and when you question my free repair while on our initial phone conversation it will be added to the job free of charge.
Call Now for a job well done.
We do our Best and you'll be happy with the results.
We Guarantee and stand behind our work 100%.
Reviews By Customers
Review by: Mona Tucker from Conroe TX
Work Description: Building and painting the cricket on the back side of the fireplace.
Comments: Would hire him again.
Review by: Tom Carhart from Houston TX
Work Description: REPLACE HINGES ON AN ATTIC STAIRWAY.
Comments: VERY PERSONABLE AND KNOWLEDGEABLE YOUNG MAN DID GOOD WORK IN A SHORT TIME. VERY SATISFIED.
Review by: Janelle Klintworth from Houston TX
Work Description: Installed a Storm door on front door or house.
Comments: Very knowledgeable and installed the door properly. If we need any additional work, we certainly will call Mr. Watts.
Review by: Carl Chambers from Houston TX
Work Description: ReBuilt kitchen cabinet drawer and made it stronger.
Comments: Excellent response and service
Review by: Aaron Evans
Work Description: He did some carpentry work for me.
Comments: Daniel gave fair prices. The punctuality was sufficient. He did extremely good work.