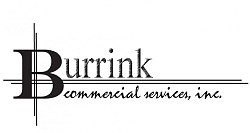 Prescreened by Networx
Burrink Commercial Services

Main Services:

Concrete Flatwork, Stamed Concrete, Floors, Concrete Walls, Concrete Refinishing

Years In Business:

13

Company Overview:

Burrink Commercial Services Inc. is the name to turn to when you are looking for fast professional service, and quality that will stand the test of time.
Our goal is to give our customers a quality job at a competitive price. We can handle all your residential and commercial concrete needs- from driveways to patios. We have been serving the area for over ten years, basing our success on competitive pricing combined with ambitious attention to detail, making us your best choice when you are looking to transform your property into an outdoor paradise.
Whatever your need, give us a call today!
Reviews By Customers
Review by: C. B.
Work Description: We had outside electrical outlets installed in the backyard by the gazebo and two on the house.
Comments: The contractor was prompt, professional and finished in a timely manner. We are very happy with his work. Would definitely hire him again for any other electrical needs that may arise. Definitely would recommend him to friends and family!
Review by: P. G.
Work Description: concrete stain and stamping
Review by: T.
Work Description: Concrete Driveway, Steps, Patio and Service walk
Comments: I have completely remodeled my home and of the 4 contractors I used Burrink Commercial Services Inc. was the most professional company. Brennden and the guys replaced all the concrete in our yard and made it look fantastic. A+
Review by: B. D.
Work Description: Pouring a floor in an old crawl space
Comments: Brendan and his crew did an awesome job!!!
Review by: B.
Work Description: Their work for me consisted of flat work repair, porches, and entryways.
Comments: I was satisfied with Construction Services as far as quality of work, pricing, and punctuality were concerned and would use them again.