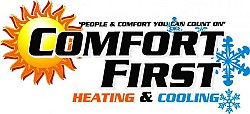 Prescreened by Networx
Comfort First Heating & Cooling, Inc.

License:

27085

Main Services:

Residential Heating & Air Conditioning Service, Repair, & Replacement

In Business Since:

2010

Company Overview:

Comfort First Heating and Cooling takes great pleasure in being the friendliest, most caring and competent air conditioning and heating service, repair and installation company in North Carolina. Comfort First Heating and Cooling Inc. is a full-service air conditioning and heating contractor with the ability to service and install complete heating and air conditioning systems. In addition to scheduled service checks, repairing of existing equipment, and installation of new equipment, we can help you find ways to reduce your energy bills through a thorough cost-benefits analysis. All of this by utilizing our over 30 years of home comfort and improvements.If you need air conditioning and heating service, repair or installation and live anywhere from Southern Wake County to the area surrounding Fayetteville, Contact Us today to find the people and comfort you can count on!

Website:

http://www.yourcomfortfirst.com
Reviews By Customers
Review by: Robert Wenig from Pinehurst NC
Work Description: Your Company is in trouble, let me explain: I have a Goodman split heat pump that reduced cooling. I checked the air filters and cleaned the fins on the outside unit because it was freezing-up both on the outside and inside units. I read that if the freezing-up continues it could be due to low R22 Freon. Then I called Comfort First.
Comments: A young man from Comfort Shown-up. I told him the situation. He check both the outside and inside units and said it lacked Freon. Then he showed me a brochure of the cost of R22 Freon which was in the hundreds of dollars. Then I asked him the cost of doing a leak test and he said $210. I looked inside the out side unit and i noticed wetness, he said it was due to melting of ice on the past freezing-up. Yet, later when I looked, it looked more like oil wetness rather then the freezing-up melting. So, I agreed for him to to put in Freon R22. It took over 5lbs and I asked him how much Freon does it hood and he said 175 oz or 10.9 lbs. I paid him $620 for his work but he did not give me a receipt. After he left, I noticed a slight sound, like an air leak, around the outside unit. I just thought it was the compressor working. Several days later I notice the the house cooling system running more and more. On next day the cooing system ran constantly with the same very poor cooling results as noticed before your young tech worked on the system. Because of your tech's lack of experience-knowledge he did not notice the leaking noise-sound in the outside unit. Yesterday, Friday the 4th of September, I hired a experience tech from SOUTHMOORE Heating & Cooling of PineBuff, NC. His description of the work performed is as follows: found the system low on refrigerant, heard a leak in the condensing unit at the compressor suction line [notice, your tech did not sense this leak noise} which was rusted and deterioratiING and could not fix. Recommendation: Heat Pump needs to be replaced due to age, condition, and repair cost. The bottom line is this. Since your company's in-experience tech did not function as a competent cooling rep as reported above. I paid your young man $545. for R22 Freon that was not needed since the compressor was already leaking as determined by the leaking sound [picked-up by another tech cooling rep] should have picked-up while he was diagnosing my system's problem. Here is what your company should do to resolve the terrible incompetence: First send me a check for $500 to cover my cost of the wasted R22 Freon because your man failed to diagnose the leaking compressor. Second, if I don't get the check, I will file a complaint the South Eastern Better Business Bureau, Put a notice in various News Papers about what happened, put a big Sign in my yard stating the facts of the situation, and tell my hundreds of friends what your company did. Third, if this does not get your attention I'll go the NC Courts for judgement. Dr. Robert E Wenig, Pd D in Technology from The Ohio State University and Professor at NCSU for 27 Years. (910) 295-3730 Please, just send me a check for $500 and your troubles will be over.
Review by: David Francis from Fayetteville NC
Work Description: AC and heating unit installation
Comments: I am a skeptic, but Comfort First won me over! BEST SERVICE EVER! I was impressed with Art professionalism, honesty, and providing me with all answers to questions I asked (Yes, I did my research). Ricky and his co-worker is the best!!! They came out and installed a complete split unit (16 SEER Amana), including new duct work. These guys worked all day Friday, Saturday, and Sunday to make sure my system was up and running. I "Highly Recommend"
Review by: Tyreese Joseph
Work Description: Installed a new HVAC unit
Comments: I can honestly say that I cannot remember the last time I had such a completely positive experience with a vendor. Art and his team really took care of us every step of the way, answering EVERY question completely and patiently. Ricky and his team were efficient, friendly, and knowledgeable. I'm very confident about the installation and the company as a whole, great people who really are putting their clients comfort first. Every thing is great, but based on our experience, I know I can reach out and receive excellent support should I need to. We are looking forward to a lasting professional relationship!
Review by: David Van
Work Description: Replaced heating & air conditioning units and duct system.
Comments: Thank You..Art, Ricky, Manuel, and Liz..You guys definitely put the Comfort of the customer First. Day One....Great no pressure consultation by Art (Comfort First owner) on what we needed for our 25 year old home....Art explained several options and we decided to go with replacing our air conditioning system, removing our Apollo (hot water) heat unit & and installing a gas furnace, and replacing the entire duct system with a R-8 rated duct system....Art was very detailed explaining the equipment, parts, labor, completion time, permits, and inspections....He also explained the warranties, guaranties, discounts (military & senior), and financing....Art left us with a good feeling that Comfort First was the way to go. Day Two (the next day)....Ricky (installation specialist) and his helper Manuel showed up on time...They were very professional and polite...The very first thing (to our surprise) they temporary installed two a/c window units for our comfort, what with the outside temperature predicted to be in the 90's....The two men worked hard all day installing all the new units breaking only for lunch....They wore protective shoe covers every time they had to come into the house....Ricky and Manuel were neat with their work, very respectful, efficient, and knowledgeable....Definitely true experienced HVAC installation professionals. Day Three....Ricky and Manuel again were prompt and courteous....They began the replacing of all the ducting, boots, and registers (vents)....We were impressed with the men's attention to detail and their work ethics....The last things installed were our new programmable thermostat and two carbon monoxide detectors....Ricky then tested the system for safety and efficiency....He then showed us the operation of the thermostat and systems....The men hauled off all the old equipment & parts and left the attic, crawl-space, yard, and driveway completely cleaned up, also returning things as they found them. We now have a GREAT heating & air conditioning system installed by Great people....We highly recommend Comfort First Heating and Air Conditioning.
Review by: thomas.
Work Description: Last minute unit replacement
Comments: this coming was a pleasure to work very please with the workmanship in quality of the work I've been having unit pricing for last 3 months I was having a 4 month ol with no heating and with no heating and cooling I have no other opt I have no other option would replace it I called multiple companies are came out send 5 hour and 5 hours later and the same day I had a brand new unit installed and fully functional art Ricky and Josh were a pleasure to work would recommend comfort first to anyone
Review by: MRR
Work Description: Furnace heating
Comments: Comfort First Heating & Cooling's customer service is exceptionally EXCELLENT! My experience is Comfort First Heating & Cooling cares about the efficient response, quality work, safety and comfort of the customer. From my call to them to project completion and follow-up was seamless and on point. The technician was on time, clean, neat, respectful, efficient, and definitely knows his craft of heating and air. I highly recommend Comfort First Heating and Air above all for all your heating and air needs. Thank you Comfort First Heating & Cooling, Inc.!
Review by: Patricia Wells
Work Description: air handler/drip pan repair
Comments: Outstanding customer service! My experience with Comfort First was professional and they take great pride in their work. I highly recommend this company for your heating and AC needs.
Review by: Ronad E. Brooks
Work Description: Work was performed in a timely and professional manner. Josh and Ricky were very knowledgable of the work they were doing. They answered all the questions I asked concerning the installation and operation of the unit, they were doing.
Comments: From the mornent I spoke with Wes concerning the issues I was having with my old unit until meeting with Art, I feel as though I have been well taken care of. I received a great deal on a GREAT system, which I am well please with! Josh and Ricky were very kind and mannerable. Not only did they clean up , they also returned things the way they found them before leaving my home! I will tell ALL my friends, family member and associates of this company. Their owners, employees and the services they performed for me and my wife's comfort. Thanks to COMFORT FIRST!!!
Review by: geneva stackhouse from Sanford NC
Work Description: Just a seervice check and recommendations of needed repairs
Review by: ERNIE CATANZARO
Work Description: REPLACE AIR CONDITIONING UNIT
Comments: i have to give then a 10 +, they were great ,on time, cleaned up, new what they were doing.i would hightly recommend comfort first. i had several quotes, and arts was the best.(ps: i am not a easy guy to please. soooo glad i went with them, nobody could have done a better job.
Review by: Bud & Betty T
Work Description: Filter Information
Comments: I did not buy my system from you and was pleasantly surprised to get a prompt and thorough answer about filters for my systems from you. Thank you for your courtesy and time and I certainly would recommend your company to friends from this experience.
Review by: Rich Dimond
Work Description: Replacement of a 21 year old non-working heat pump with a new 15 SEER split system heat pump. Installation of a new cold air return duct.
Comments: My wife and I purchased a home on 12/5/11 with a non-functional heat pump. Art came out to provide an estimate for a new system on Friday 12/9. He seemed honest and straight-forward, and after doing the proper heating/cooling requirements analysis, provided what I felt was a fair quote. Friday evening I called him to advise we had a deal. Monday morning, 12/12, Josh and Ricky showed up ready to get started. I immediately could tell both of these gentlemen were professionals, and both were friendly and courteous. Although they ran into a few minor challenges along the way, their expertise and full compliment of necessary supplies and tools enabled them to quickly resolve any issues and have the new system fully functional by 6:00pm that evening. Within a very short time our home, which had been rather chilly and damp, was warm and comfortable. Hats off to Art, Ricky, and Josh for a job well done!
Review by: alan a
Work Description: Elec dampeners to cool the upstairs more
Comments: Mission accomplished! Great people and service. Saved me $$! Honest evaluation/explanation of my situation. I'll use them again! aa
Review by: Loren Goble from Chapel Hill NC
Review by: Loraine Duerk from Durham NC
Work Description: My daughter lost her cooling system in this 98 degree weather. She is in dental school, so I contacted this company and they were so understanding and accommodating as to the time. They were there that evening and my daughter was impressed with their knowledge, and the non-pressure salesman. They gave her a fair price and were there in the AM to replace both her heating and cooling system.
Comments: Very impressive and very knowledgeable. No high pressure tactics really impressed her and their ability to start the next morning was something my daughter was truly happy about. With all her studying, she needed a comfortable environment..Would recommend them and she is really happy with new efficient system.
Review by: Mark and Linda Scott
Work Description: Replacement of heat pump system (entire) with duct work replacement (some).
Comments: Linda and I took several weeks and had several quotes. The process seemed like buying a used car or watching those personal injury attorney commericals some more than others are high pressure sales. Estimates ranged from $12,846 to $5,900 it pays to shop. The staff from Comfort First were outstanding Josh and his partner started about 9 AM and finishing 9 PM. THe effort they placed great. We meet the entire staff (while a small company) this was easy. One local company bashed the others comfort first didn't. Another estimator didn't either. One company offered financing at 24.99% interest. Progress Energy (finance company) had the payments for 10 years and in ten years it almost time for a new unit they would not cover the job. Hats off to comfort first they came in under our budget and on time. Highly recommend shopping around and checking the competitors. Will highly recommend Comfort First of Sanford, NC to friends.
Review by: Vlad R
Work Description: We had our heating system repaired.
Comments: A couple of weeks ago on one of those frigid nights the heating system went out downstairs in our home. The next morning my friend down the street recommended I call their heating and air guy, Art Harmon at Comfort First. I called shortly after and spoke to Art directly. Within 2-3 hours we had a service guy knocking on our door. The serviceman, I believe Cleve was his name, was very knowledgeable and professional and explained the problem in a manner that was very easy for me to understand. He even wore medical booties to prevent our floors from getting dirty. After about 30 minutes Cleve had heat coming from our vents again. These guys are great and the repair price was very reasonable too. If you're looking for a company that will take care of you in a timely manner and stand by there word, give these guys a call... I know that I will.
Review by: Dean Jacobs

Work Description: My air conditioner stopped working and they fixed it.

Comments: A couple of days ago I noticed the temperature in my house was crawling up and my air conditioner was wide open but there was no cool air. I called around but everyone was too busy to come out the same day. I guess a lot of people were experiencing this with the first real warm weather of the season. I called Comfort First and they were able to send their guy right out. Wes was courteous and professional. The best part was that it was very inexpensive to repair. It was just a broken wire at the outside part from where I got a little too close with my weedeater. He asked me to submit a review and it is the least I could do. I will recommend them any chance I get!

heading_subtitle