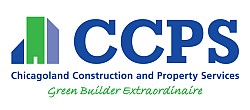 Prescreened by Networx
Chicagoland Construction & Property Services Inc

License:

TGC023934

Main Services:

Exterior and Remodeling

Years In Business:

5

Company Overview:

Chicagoland Construction and Property Services, Inc. was incorporated in 2009. We are a green builder focused on using materials that will make your home more energy efficient as well as be better for the environment.

Our beginnings....In 1985, Samuel Arteaga Sr. purchased a multi-unit home and put his kids to work helping him remodel a worn down 85 year old building.

Since then Martin and Samuel Jr. have been involved in remodeling, property management, and property services. Martin has a degree in Public Administration and is trained in Construction Management and has worked on major projects such as The CTA Brownline Expansion, University Village, UIC South Campus Expansion, Roosevelt Square Develpment, and CPS School renoveation projects. Samuel Arteaga Jr. has a degree in Business Administration and has experience in industrial applications, equipment, and home remodeling.

Together, we have over years of experience..guided by Samuel Arteaga Sr. who managed construction and property services for 34 years.

CCPS is a member of the Hispanic American for Construction Industry Association (HACIA) and the Illinnois Hispanic Chamber of Commerce. CCPS is recognized for integrity and reliability.

CCPS is insured, bonded, and also licensed with the City of Chicago and suburbs.

Contact us at:

Website:

http://www.chicagolandcps.com
Reviews By Customers
Review by: M. A. T.
Work Description: Bathroom Gu:Plumbing, Electrical Work, Installed Jacuzzie Whirlpool Tub, New Light Fixture, Vanity & Sink, Tub Surround Tile, Floor Tile, Toliet, Build Bathroom Cabinets, Installed Shower & Sink Fixtures, Mirror, Shower Rod, Floating Shelves, Painting &Trim,Tub Bar, Towel Racks .Kitchen & Pantry, Refurbished Cabinets, Installed Backsplash, Installed Porcelain Floor, Ceiling Fan, Floating Shelves, Painting & Trim, New Sink and Countertop, Light Fixtures, Fixed Lock on Front Door, Hanged New Door to Bedroom.
Comments: CCPS,did a awesome job on my Bathroom and Kitchen. I would like to thank Martin Aretago and his Employees.The work was picture perfect I have and will continue to recommend CCPS to anyone who needs remodeling done on their home. Martin was very professional and patient. The job was completed in a timely manner. I would like to thank you again Martin and a special thanks to James and Renee.
Review by: M. C.
Work Description: He executed some remodeling work on three properties for me.
Comments: The quality of work was up to my standards. Everything was done pretty efficiently.
Chicagoland Construction & Property Services Inc Replied:
It was a pleasure doing work for Matthew...thanks you for the review! We appreciate you.