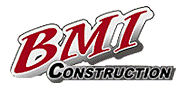 Advanced Construction Renovations
Advanced Construction Renovations

Main Services:

Asphalt Paving, Concrete, Excavating/Grading

In Business Since:

1992

Company Overview:

BMI Construction offers:
Asphalt Paving & Asphalt Services, Concrete Services, Excavating & Grading.
Reviews By Customers
Review by: Clint Riddle 
Work Description: They poured a slab.
Comments: I am most definitely satisfied with BMI Construction. I just bought a piece of property and I will use them for more work.