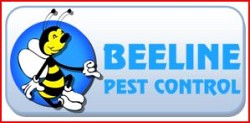 Prescreened by Networx
Beeline Pest Control

License:

23938, 14907

Main Services:

Residential and Commercial Pest Control, Specializing In Termites and Bed Bugs

In Business Since:

1997

Company Overview:

Beeline Pest Control is the name you can count on for all your exterminating needs. We specialize in designing tailored treatment programs for each of our customers. We know that our customers are the life of our company and we believe in treating them that way. We offer a partnership with our clients that result in the safest solution to their pest problems and prevention of future problems. This relationship building and attention to detail at every level of client contact provides a value unmatched in the pest control industry. With more than 12 years experience in the field, we have made a name for ourselves as the local, professional contractor countless customers have come to rely on to quickly and safely deal with all their pest control problems. So for your peace of mind, give us a call today for your free estimate.
Reviews By Customers
Review by: robert wilson from Lakewood CO
Work Description: he was very polite and explained everything to us
Comments: we would highly recommend him to our friends
Review by: Mike Harmon from Idaho Springs CO
Work Description: We had something in our cabin that was eating the wood . Did not know what was causing it.
Comments: Beeline came right out and determined it was Carpenter ants. Sprayed and took care of the problem. Very quick and great price.
Review by: Kylin Fleischmann from Longmont CO
Work Description: This is my first experience with an exterminator and I was very pleased. We just moved into a new house and I had spotted some spiders so I wanted him to come out and spray as a precautionary measure. He was within the window time frame, he was very quick but thorough, he answered all of my crazy questions and even went above and beyond by leaving a mouse bate because it appeared we may have a mouse AND on his way out sprayed a wasps nest we noticed. I would definitely hire Beeline again.
Review by: Susan
Work Description: One time service Bee extermination and beehive removal from home.
Comments: Quick, Reliable, Trustworthy. We highly recommend the S. Broadway office of Beeline Pest Control. Hands down, the best! We called a big name company, and they came at 4:30, then refused to help, because the bees were too high. We then called Beeline at 5 p.m. A most professional, prompt and pleasant technician, Jerome, came that night by 5:30, and sprayed immediately. He quoted a fixed fee, and even though there were some complications and he had to come back three more times and work into the evening, he honored his fee quote. Honest, knowledgeable and efficient. They took care of the problem without trying to sell us on an annual contract like the big name companies tried to push. This is how all businesses should be operated, not just pest control businesses. We endorse Jerome's services and Beeline Pest Control. Without hesitation, we will call them for any type of pests, not just bees!
Review by: Bob Frazee from Parker CO
Work Description: Termite inspection
Comments: He found no indication of wood infestation, said he found Bed Bugs- not any mention of that on report I received. Why? if he says there are, why not write it down!!
Review by: Jesse Cole from Littleton CO
Work Description: Bee and hellow jacket control and insect control in the house
Comments: So far so good. No indication of infestation.
Review by: Phyllis Persinger from Thornton CO
Work Description: Sprayed tree for Box Elder bugs
Comments: Dead bugs everywhere....almost like walking on Rice Krispies! The job was guaranteed for 30 days. We've been out of town -- will check for any remaining live bugs when we return
Review by: aaron merritt from Thornton CO
Review by: Esther Post from Denver CO
Work Description: Ant problem.
Comments: I sprayed and laid poison down prior to service. There were no ants present when treatment was done. Usually the ants would come back within a couple of days after I treated the areas. I have not seen any ants since the tech came out. I will keep you in formed if they come back.
Review by: Mike McCord from Boulder CO
Review by: Michael Greenbaum from Boulder CO
Work Description: Eradicate field mice
Comments: Beeline was the first to respond and the only company that was willing to come to the home within a resonable time. I will definitely use them for my expterminating needs.
Review by: Marian Camden from Centennial CO
Review by: Dawn Wiant from Denver CO
Review by: Shannon Shryne from Denver CO
Work Description: Mouse problem
Comments: it was important to me to have someone quickly take care of my problem. Beeline came first thing the next morning to take care of the problem. Two other companies did follow up promptly, but I went with Beeline because they called about 15 minutes after I entered my request online.
Review by: Lee Stametz from Denver CO
Work Description: Help with wasp infestation, and basic spider control
Comments: We'll see how it all goes, but so far, so good...and there's a 30 day guarantee, so I feel comfortable. I liked these guys very very much.
Review by: KENT KARST from Littleton CO
Review by: tont pizzo from Lakewood CO
Work Description: Flying ant problem.
Comments: After discussing the problem and reviewing the situation I have decided to use these folks on an annual contract.